Nazare (we landed a swordfish!)

Moxie - Beck Family Adventure
Mike, Denise, Asia and Aranya Beck
Mon 30 Aug 2010 11:22
39.35.12n 009.35.12w Nazare 28/29 August 2010
My last blog turned out to be prophetic, indeed the very day after posting that I hoped a swordfish would take our tuna lure sure enough one did.
Perhaps I needed to be a bit more specificnext time, this wee guy grabbed one of the teasers. Now hopefully we can find his dad tomorrow eh.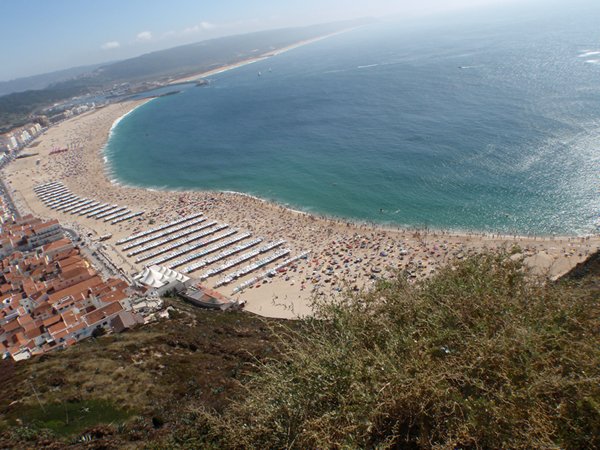 Looking down at Nazare from the top of the cable car, harbour entrance at the far end.
We again had a foggy trip but this time we added a three metre plus swell into the mix. In England shoreside they call lumps this big foot hills. Mini moving mountains of Atlantic Ocean, waves this size make the horizon disappear, but it was a very comfortable ride in Moxie nonetheless. We managed to sail most of the way albeit slowly due to general lack of puff, and the fog cleared an hour or so before Nazare so getting in through the channel was no problem. The pilot book directs us to the far end where there is a small marina amongst the fishing boats, thankfully it was all full there at the smelly end and we managed to get a berth on the boat club pontoons which are much closer to town. All the people are fantastically friendly here and the girls have spent the day playing with a couple of local girls. They have spent most of the day with fishing nets trying to catch the wee fish in the marina. Apparently the little girl is called quattro, lol she is four. They all had fun despite not understanding any converstaion of which there seemed to be plenty.
We have gone laundry mad as we have a washing machine all to ourselves its a bargain 1.50 per load. Noted that some of the girls clothing is wearing out, normally kids grow out of things rather than wear them out and it's certainly not a case of over laundering. We have figured out that it's the hanging things, dresses etc and the movement of the boat is causing them to chafe against one another and is wearing holes right through them.
We hung around until 1pm waiting for the fog to clear but it simply won't. After speaking to the locals who simply said this was normal and will be OK 1 mile out we decided to make a break from the marina and headed out and down to Peniche some 35 miles away. It was a case of motoring the whole way again, this is supposed to be a yacht! Sure enough though the fog was clearer at sea.
Some guy doing a Jesus impersonation, who knows that may well be his name.
There big church at the top of the cable car it is pretty impressive inside everything glitters of gold.
Hey they sell these shell things here too, I'm dying to buy one to give to someone with a sense of humour.
Traditional fish drying on the beachfront
Dried octopus anyone?
---