Lagos - The Algarve - Grotto caves

Moxie - Beck Family Adventure
Mike, Denise, Asia and Aranya Beck
Tue 14 Sep 2010 22:07
Lagos 14 Sept 2010 37.06.62N 008.40.48W
We gave the laundry a hammering, checked out the beach - great surf!, went to the boatyard and chandlery. The boatyard is fantastic plenty of English speaking staff and a huge chandlery. Looking good for wintering here. I bought an LED light bulb for the anchor light, our 25W incandescent bulb really chews through a lot of power in a single night so the LED is a good investment despite the price and hassle of fitting it, it is 60 feet in the air after all.
This is me explaining that it's the wrong flipping bulb, doh!
The marina is close to the supermarket and Denise had read that the trolley would be collected from the marina so we stocked up big time. The trip home was numbing though, the little cobbles that look so fantastic in their intricate patterns were not designed for heavily laden supermarket trolleys and although close - we are talking about a ten minute shuddering push back to the boat. I had previously thought that to push a trolley this far you needed a degree in social benefit collection and to live in a council house. Bananas and watermelon were the primary victims. In Portugal beer is cheaper than coke, supermarket price for a can of coke is 46cents, beer 24cents - this is a no brainer.
The lifting bridge at the entrance to Lagos Marina
Hull cleaning service is included in the marina fee- I should darn well think so too thank you very much.
A mile or so out from Lagos there are some rock formations carved out by the sea. Throngs of tourists visit these every day in boats of all descriptions, then hop into a dingy and take rides in, out, around and under them. Not wanting to miss the action we joined in anchoring down in the crystal clean waters - it's the first time I have ever seen our own anchor from the surface. Our little tinker and 4hp engine was just barely enough to overcome the massive waves that wash into these rocks and caves. We'd follow a tourist boat to see which caves were navigable before trying them and when that one escaped we'd latch on to the next one, they all seem to have 25HP engines.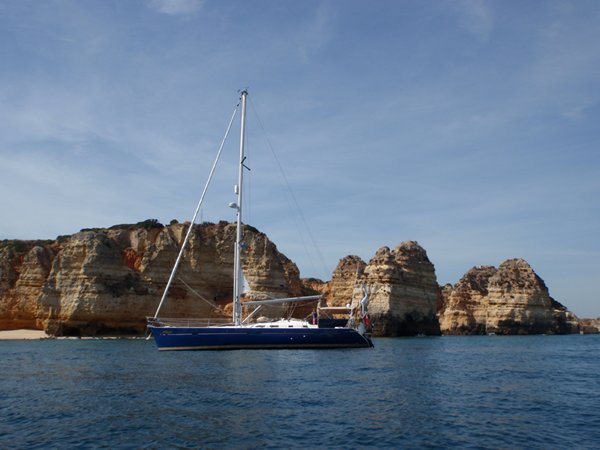 Moxie in the Algarve at last.
OK kids are you ready for school now I proclaimed after the grotto tour, get your gear on today is snorkeling school. The girls were a bit uncomfortable being in 25 feet of water for the first time but Denise was loving it and spent about 40 minutes snorkeling around in a bikini. - the water is very warm indeed.
---