Islas Cies

Moxie - Beck Family Adventure
Mike, Denise, Asia and Aranya Beck
Sun 8 Aug 2010 20:26
Islas Cies 42.13.22N 008.53.95W
The trip to Islas Cies was unevenful we started with a downwind yachtsmans gale but that subsided and we motored about half the way in the end. We had a very brief glimpse of a dolphin today, the first one we have seen from Moxie - he was gone in a flash and it was only Asia and Denise that had the pleasure.
We arrived on Sunday evening, the pilot book advises to steer clear of here at weekends. Well yes every man without his dog (not allowed here) was anchored up and on the beach, we found a spot and settled in but by about 8:30 there were just a handful of yachts left and a brilliant sunset later.
Islas Cies is a reserve, fishing is prohibited apart from commercial fisherman fishing in traditional ways. This morning we had a sardine fishing boat lay his net out between the yachts and haul it back in, he did this about 5 or six times back to back in the same place.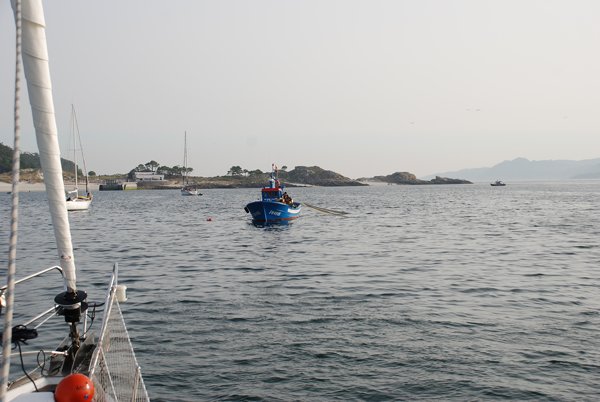 I can see why it is so popular here the beach is amazing, brilliant clean water and clean white sand. Like the other beaches in Spain the sand is full of glitter, it sticks like crazy to skin so we all look a bit shiny most of the time. We have been for a hike up to the lighthouse, had a picnic lunch in the shade of the trees and bought some bread (and ice-creams of course) at the camping ground store.
There is a lagoon which fills at high tide and is teaming with fish. Most of the lagoon is closed off to people but there's a small part at the end that that kids spent quite a while swimming in as the shallow water heats up nicely. It must have been over 30 today (still 24 degrees at 9:30pm). We have decided to stay another day or so as it is such a nice place and the weather is very clam, a very welcome change from the blowy Finisterre area. We might move around the corner a bit as the wash from the passenger ferries that come into this beach is a bit annoying at times.
Bayona is next, I'm really looking forward to a visit to the Pinta replica (Columbus's ship), Bayona is the port he returned to.
---