Vulcano & Milazzo Italy - Denise's Birthday and ruinion with Sudoeste

Moxie - Beck Family Adventure
Mike, Denise, Asia and Aranya Beck
Thu 18 Jul 2013 08:20
38.13.29N 014.14.16E 18 July 2013
Denise's birthday saw us reunited with Sudoeste (The Ash family from Auckland that we met in Lagos – Jonathan, Kerry, Emily and Daniel). Sudoeste was in Palmero awaiting Daniels's arrival and we were intending to go further west to make the rondevous point closer to them however after a bit of research and investigation Volcano seemed the best option. Daniel must have been over the moon to learn that right off the back of his flights from New Zealand via Dubai and Rome to Sicily he now, thanks to Moxie, had a 100 mile yacht passage to endure. Personally I'd take the yacht over a cramped cattle class plane seat any day and I'm sure Dan was pleased to see a bunk.
The girls eagerly awaiting Emily's arrival.
Sudoeste, the rocketship Beneteau First
So we all enjoyed an authentic wood fired pizza for Denise's birthday dinner and for the the next few days the three girls were inseparable. Of course there were sleepovers, swimming, crab hunting, clubhouse building, swimming, swimming, lizard chasing, swimming, mud bathing and getting dragged around some sprawling museum in Lipari (five buildings) all full of broken pottery and rocks. Interesting for me was learning that the island of Vulcano is only 2,000 years old. The other odd thing, and disappointing for the kids, was that even the park / playground is shut for siesta, so no noisy kids playing between about 1 and 5pm.
The girls trying out the hot volcanic mud baths right on the beach at Volcano.
Whilst the girls headed to the mud baths the boys went off for a haircut, usually my hair gets cut aboard moxie with the trimmers but stupidly while cleaning the trimmer I lost the clipper bit overboard. I'm obviously getting old because the hairdresser offered to trim my eyebrows for me (and I accepted), at 15 euro I was determined to get my moneys worth.
Just outside the mud pools are some thermal springs that shoot up jets of hot water into the sea, a natural salt water spa pool which was just the type of experience I like (free). Shockingly though one of the springs was obviously broken as it spurted out COLD water.
We were due to say our goodbyes on Thursday and head for Greece however lack of wind gave us all another day together and so we popped of to Milazzo on mainland Sicily, we found a good anchorage close to the town centre (thanks to Chanty for the notes) and went up to the castle Friday morning before the heat set in. It was 35 degrees inside the boat and that was noticeably cooler than being outside in the shade.
Hairy Mclary?
We spent the morning wandering around the interesting town of Milazzo together with the Ash family.
Sad to say farewell to our friends and our paths don't plan to cross again, but we're not very good at plans so who knows. Anyway, New Zealand is a small town and one day we'll catch up for a cuppa, Chai I believe.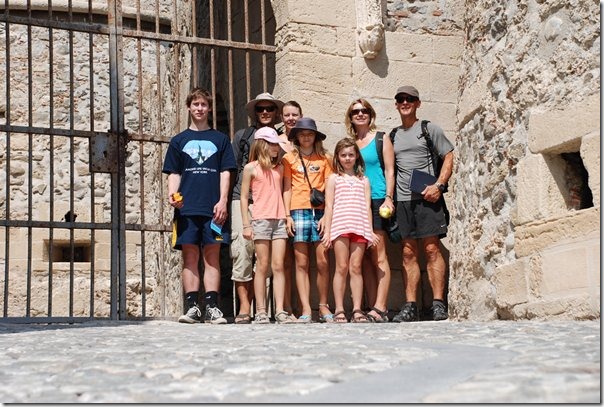 Moxie and Sudoeste crews.
---