Pilot whales!

Moxie - Beck Family Adventure
Mike, Denise, Asia and Aranya Beck
Thu 9 Sep 2010 20:14
onroute to Sines 38.15.491N 009.07.435W 09 Sept 2010
Next up was the dolphins, mini torpedoes homing in on the boat from any direction, quickly darting in and out of sight and playing on the bow wave but all far too fast to photograph.
The star of the day though was to sight pilot whales. We encountered a family of 5 Pilot whales, the biggest was around half a boat length (7 metres), we stayed on the same course for a good 30 minutes, pure magic the pictures don't do the experience any justice at all so do watch the video. They pretty much stuck close together the whole time and seemed to effortlessly swim along at 4 knots. Occasionally they would veer off left or right or duck right beneath the boat. As they come up to breath, even though you are expecting it, the blast of the air gave us all quite a shock especially if they surfaced close by which they did often. At one stage the whole family was alongside so close we could hear the whale song as they spoke to each other. A really magic day, experiences like this will last a lifetime.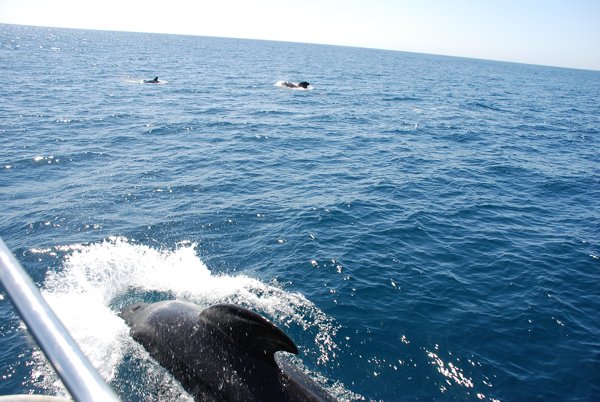 I can't believe it, is it still there?
and now for the movies...
---