Some highs and lows from Greece

Moxie - Beck Family Adventure
Mike, Denise, Asia and Aranya Beck
Tue 20 Aug 2013 20:01
38.45.79N 020.47.56E
Back in Greek waters again.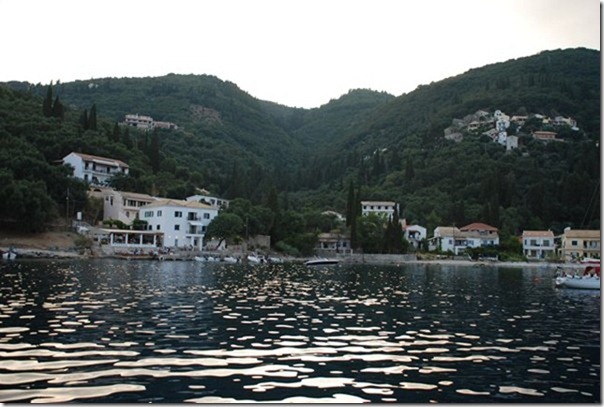 High, Corfu our first taverna surrounded anchorage, the white house taverna on the right was once owned by the author of ' My family and other animals' – um.. haven't read it...
Low Corfu - investigating the unusual structure we find that it to be a jail for two enormous sea lions.
One of two sea lions, trained to do tricks for tourists on the hour and living in very cramped conditions.
Low – Corfu – the tourist fun ride boats racing through make swimming in the anchorage out of the question.
High - Paxos – probably our nicest anchorage very sheltered but also very very crowded. Zee Kiwi in the background.
That's a familiar bum.
High, Paxos – We find our friends Chanty again.
High, Cave exploring on Paxos, we did a 10 mile circumnavigation in the tender, we just love the ease of having a big powerful tender hanging on davits ready to go.
Paxos – high – swimming
High, celebrating Carol's birthday on Chanty.
Transiting the Levkas canal
Samji! last seen in Santa Ponsa –High!- Mel and Phil introduce us to one tree bay.
Every morning a calamity of bells and maa's as the goat herd came down to drink from the sea! One tree out of picture.
O. Kapali– Med mooring, throw the anchor out back up and tie to an olive tree. It got a bit crowded after a couple of days and started feeling a bit like a motor camp. Behind us just olive trees and goats.
Stern lines tied to olive trees in O.Kapali
We had been emailing to and fro with FELINA, an American family on a Lagoon 450 whom we met last October in Gibraltar. They travelled about 300 miles to catch up with us again. We met Felina in Abelike where we Med moored next to them for a few days. Unfortunately we picked up an unwanted guest in Abelike, a rat had walked the shore line and made himself at home on Moxie. We deployed sticky traps but he managed to shake that off and escape, eventually we caught him in a standard rat trap, he'd been aboard 2.5 days.
OK Spithill, bring it on. Photo courtesy Felina
a Mediterranean Spearfish at 17kilos our best catch yet.
The same lure that I caught my birthday tuna with.
Fish skin chaps, not catching on in the fashion world.
Tatum's belated birthday cake.
and then.. Gavin, Rosalie, Ellie and Tilley from Wimbledon arrived holidaying in Kefalania so swordfish for dinner along with the Felina crew it was.
Gavin holding court.
Lagoon 450's are much better for jumping off.
Our last days with Felina, they rushed off to catch a big lightning storm in Siracusa, Sicily – we had the Conroys arriving from Wimbledon in a few days and we made plans to catch up in Malta. Actually Felina did catch a big lightning strike and it fried everything electric.
---