Capri

Moxie - Beck Family Adventure
Mike, Denise, Asia and Aranya Beck
Sun 14 Jul 2013 20:32
40.32.96N 014.15.57E
We left from Ponza towards Naples with plan to visiting Pompei from there. Upon arriving into the bay of Naples the amount of floating rubbish in the water put us off and so we headed toward Capri (obviously named after the car but bearing no resemblance whatsoever). Capri is a summer playground for the rich and famous so we clearly weren't going into a marina here. We found a very small but uncrowded anchorage on the lee side and dropped the hook near (enough to) two local yachts, typical for this part of Italy anchorages are very scarce. The land around here rises sheer up from the sea and underwater it drops off at the same alarming rate, so 10 metres off shore the water is more often than not already 40 or 50 metres deep and dropping rapidly thereafter. Further complicating matters there are extensive no anchoring zones and in some parts no anchoring within 300 metres of shore.
Anywayz, we did manage to anchor with just 2 other boats just as dusk and come 7am we were all alone, wondering if we were actually allowed to be here of not. Around 8:00 an official looking boat approached us and I was expecting to be told to move on. Bonjourno, do you have any garbage? was the call made. Everyday during the summer these guys go out on this council funded boat collecting rubbish and even holding tank waste for free – wow! So we stayed (now without our smelly rubbish bags) pretty much by ourselves in this pretty anchorage and away from the hoards and numerous superyachts anchored just around the corner (fenders out when anchoring seems to be the norm for Italians).
We spent a couple of nights bobbing uncomfortably in the swell but thankfully in a cat equates to totally untenable in a mono, and we managed to sleep pretty well considering. During the day we were inundated by 30 or so local day boats and endless processions of tourist sightseeing vessels which were somewhat bothersome. The girls and I swam the gauntlet to shore for a snorkel and managed to spot a juvenile moray eel hiding in the rocks.
Denise and the girls ventured up the hill for a closer look into a natural cathedral while I pottered around in the tender below having nowhere to tie to.
We were really looking forward to seeing the natural arch as in the pilot book it sounds far more impressive than the one at Ponza. 'every Italian destroyer has a photo of itself going through at 30 knots, features on virtually every promotional photo of Capri, tour around Isola Farangioli and motor through its largest arch' Motor through! Cool, let's do it!
Yeah it's cool, but it was clear that Italian destroyer class boats must be somewhat smaller than we imagined and 'motor through' probably does not apply to yachts.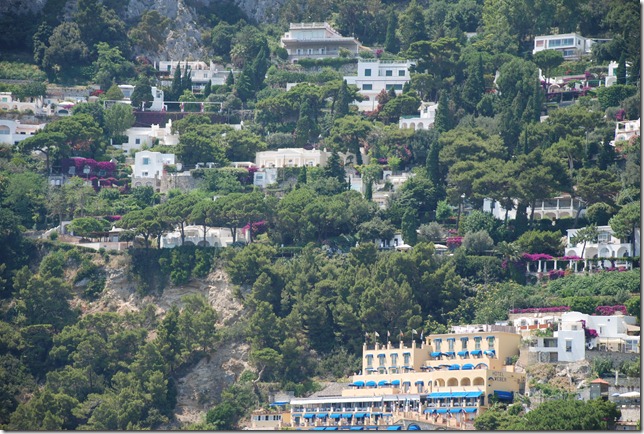 Pretty Capri from sea
SORRENTO
We left Capri and headed for Sorrento on the eastern side of the Bay of Naples, from here we thought we'd catch the train into Pompei. Well we arrived, dropped the anchor in a beautiful setting and were looking forward to a swim. It was Sunday and from the boat we watched a religious festival with a huge procession of people carrying a float down the steep zig zaggy road to the marina. In the bay a tug / fire boat put on a sprinkler fabulous display for us and a brass band played loudly from the docks. Again however, totally spoiling the show, the floating rubbish totally put us off going into the water so we watched the celebrations and then pretty much left again right away.
Religious procession at Sorrento
Sorrento, they put on a good show for our arrival but we didn't stay long.
AMALFI
We back tracked 15 miles or so and went on down the opposite side of the peninsular hoping that all the man made crap in the water is a Bay of Naples specific thing. We headed now for Salerno which is another train option for Pompeii. A few miles short of Solerno we were caught in a 30 knot squall at Amalfi, we decided to stop here for the night in what is virtually the only anchorage on the whole coast. From the sea Amalfi is postcard perfect Italy, whitewashed buildings clustered on a steep cliff with lemon groves terraced into the hillside behind, the roads so twisting and narrow that the busses honk upon approach to the corners, not a modern high rise or neon sign in sight.
Amalfi
Amalfi
SOLERNO
In Salerno we opted for the collection of pontoons outside of the main harbour as we expected to get a better price and didn't need full marina facilities. We pottered round looking for space and were directed into a spot between some small motor boats, the gap was not nearly wide enough and the guys ashore had to haul the small boats apart to make width enough for us to shoehorn in. We looked very out of place but at least we were secure. It turned out to be a bit of a mistake going here as we saved nothing, live and learn. The 'marinero' at least was entertaining, his 'uniform' being a pair of black speedos and a captains hat.
Spot Moxie
---