Moorea & Tahiti

Blue Sky's Voyage
George & Michael
Sat 10 Jul 2010 21:30
Hello Friends "17:35.2S 149:36.9W"
We had a brisk sail back to Moorea from Rangiroa - 25 knots on the beam for most of the run and a rather tedious sea to contend with, especially when the tide was against it, but fast certainly. After getting little sleep on the overnight passage, the anchorage in Moorea - deep in an inlet - was blissfully peaceful.
Here's an early morning photo of the morning sun just starting to kiss the Moorea mountains. I was watching this and thinking that the view was incredible, but made more so by the fact that we've sailed 26,000 miles and nearly half way around the world to see it.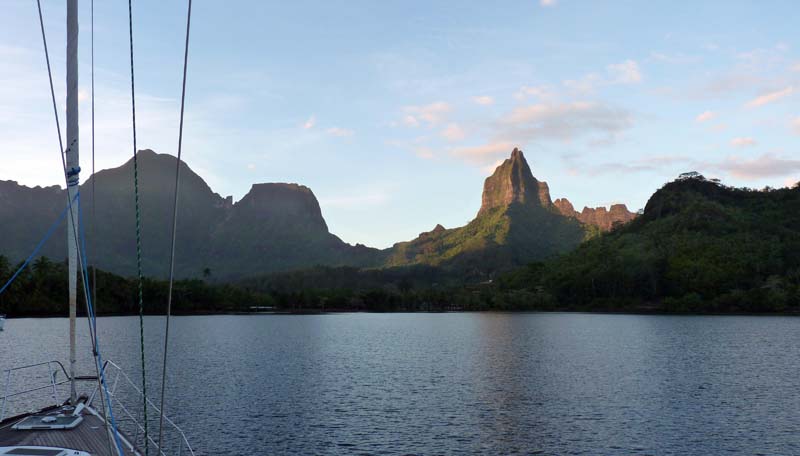 Even Greg got up early to go bicycling and take a look around. The bay where Blue Sky is anchored is by his left shoulder:
Our next stop was the ray 'feeding station' on the NW corner of Moorea. This is an area of shallow water with a sandy seabed and a few mooring buoys. The tourist boats come here and feed the stingrays with small fish etc and in consequence it's packed with rays who want to play and be fed. This is an amazing and sometimes intense experience as the rays get very excited and leap up at you like over-enthusiastic labradors. Along with the rays there are quite a few regular tropical fish and the inevitable sharks and remoras.
These are the stingrays, not stinging today !
And here's one of the sharks which were hanging around the edges of the party. The sharks were particularly numerous on the edge of a steep bank into deep water, but they didn't seem at all aggressive and Greg was observed chasing a shark with a piece of bread in the hope of getting a better photo ! The larger sharks were over 2 metres long and they'd swim right up to you...
This is definitely an experience worth travelling a long way for - a 3 rosette tourist site in our view.
Anyway, we're now back in Tahiti in the marina, a little earlier than planned, but you'll have to wait until the next blog to find out why we're back so soon...
Last night Greg went out to town to see some entertainment as it's the start of the Heiva festival here in Papeete. We picture him getting a traditional Polynesian welcome from the very lovely Miss Tahiti.
That's it for now - check back soon for the next surprise blog.
best wishes
George, Michael and Greg
---