Green Island, Antigua

Blue Sky's Voyage
George & Michael
Wed 11 Feb 2009 20:39
Hello Friends "17:04.4N 61:40.4W"
Not too much to report, but we thought we'd better keep in touch, just in case you're worried that we're not enjoying ourselves !
There were no exact answers on the snake ID in the last blog, barring some facetious suggestions, though Michael's brother Dave was probably closest to the mark saying it was similar to an Antigua Racer (world's most endangered snake and only a couple of hundred left on an island in Antigua). There aren't supposed to be Racers outside Antigua and of course no snakes in Guadeloupe anyway, so any budding naturalists should head to Ilet a Cabrit and check out the wildlife.
In fact any budding naturalists could do some useful work out here generally, as we reckon that most data is old and inaccurate. Ospreys, for example, are supposed to be rare and occasional visitors, but we see them everywhere all year round - there are a pair on Green Island here in Antigua right now.
Anyway, security issues...
Guadeloupe seems to have settled down again following the disturbances after we left: we reckon that the whole place relies on the big container port so much that you can only riot for a week or so before everyone gets hungry and calls off the shouting.
Antigua has it's fair share of security concerns too this year as a quick google will confirm. As we learn that tourism is down 40% this season, it's a problem that should really be addressed soon... Anyway, we take care and don't generally go out after dark here.
The Technical Blog
And for the techies out there: we had some troubles with the watermaker. We were using it quite happily and then one day it just refused to start, or at least would not pass water through the system. We consulted Julian at Watermaker Services here in Antigua who persuaded us to take it to bits, despite our trepidation, to see what was wrong. The watermaker is a 12 volt model which has a pump taking the pressure up to about 10 bar which goes through a hydraulic amplifier to increase the pressure up to about 40 bar. Since the pump sounded fine, we disassembled the hydraulic amplifier, which is the strangest contraption we've seen in a long while...
The slices of the thing are sealed by about 150 'O' rings which we were convinced would escape overboard. In fact , all we really did was clean it thoroughly and reassemble with a little vegetable fat on the moving pistons, not really expecting the thing to work ever again. And guess what ? it's just fine and now makes more water - about 25 litres an hour - than it has ever managed before. No one was more surprised than us.
Alex survived three splendid months on Blue Sky and has now returned to British Columbia where he found it ... COLD. As he was probably the best crew ever, we hope he will carry out his threat to join us going through the Panama Canal later in the year and eventually across the Pacific. Amongst his other skills, Alex was very competent with repairs, certainly helping with the watermaker games and he's good with winches too...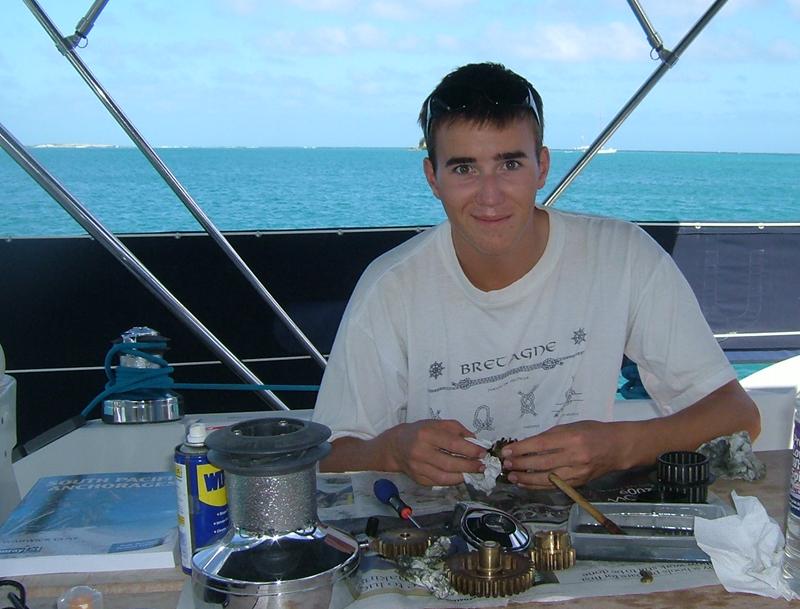 note carefully positioned pilot book 'South Pacific Anchorages' on left of pic.
---
We're still in Green Island and having used our abundance of fresh water to catch up with washing, George is now catching up with sewing jobs. Michael is of course, blogging. In a day or two, we'll check out and sail up to St Martin/Sint Maarten for some serious shopping and stocking up with lots of spares before heading West.
We hope the snow / floods / bushfires and sundry storms and tempests are abating wherever you are. If it's any consolation, it's not been too sunny today and it's blowing like crazy: 25 - 35 knots most of the time.
Best Wishes
George & Michael
---