Top of the Islands

Blue Sky's Voyage
George & Michael
Wed 13 Feb 2008 13:25
Hello Friends "18:04.24N 63:05.25W"
We had a great run from Guadeloupe to St Kitts, reaching to windward of Montserrat and close by Redonda. Since we know the St Kitts anchorage we were happy to arrive after dark but with excellent conditions we completed the 75 miles in ten and a half hours and were comfortably anchored in time to greet the sunset in traditional manner...
The Girls arrived on schedule on 4th February in St Kitts and have been greeted by very brisk trade winds. Here we are on our island tour visiting the Brimstone Hill fort in St Kitts.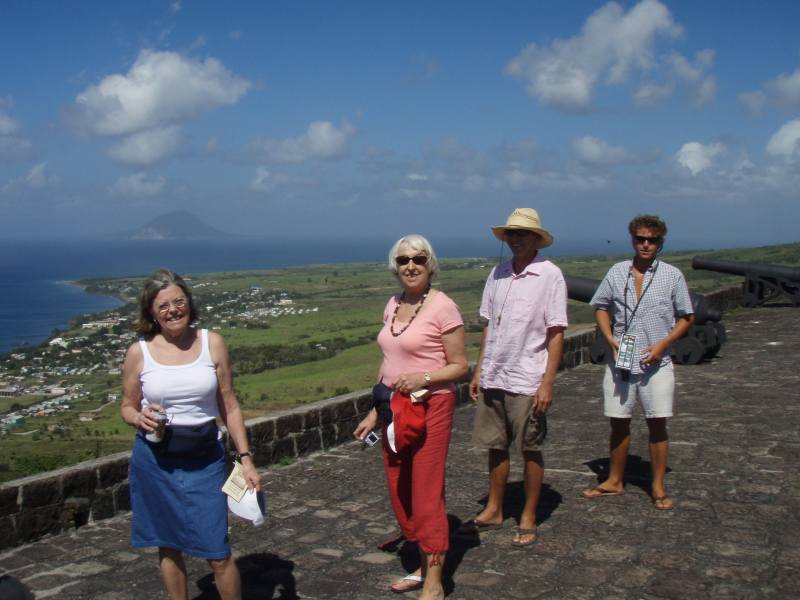 Our journey north to St Barths was interesting in 25 knots plus, though everyone was fine and Barbara, with the benefit of a Hyoscine patch, had not a twinge of seasickness. We anchored in Anse de Colombiers at the NW corner of St Barths and were greeted by the usual profusion of turtles around the boat.
A day pottering around Gustavia followed though the girls were very restrained in the shops, which in view of the pricing in Gustavia was probably just as well. The Cabin Boy was not quite so restrained and was tempted by a Cuban Cigar - not available inside the US of course.
The rest of our time was spent just chilling out, turtle watching and snoozing before a short and easy crossing to St Martin where we decided to go into the marina in view of the brisk weather and large seas. We managed to visit the large chandleries without significant spending as we now have so many spares and supplies on board that more seem superfluous.
When we berthed in St Martin we were a couple of boats away from "Bedouin" a ketch which we'd seen in Martinique, Guadeloupe and in St Kitts. We were very kindly invited to visit the home of Bedouin's owners and spent a delightful afternoon by the pool, overlooking a magnificent view to St Barths. Here are the Girls frolicking in the pool with St Barths in the distance through the haze.
And the other news is that the Cabin Boy has a new job ! He will be flying to The Netherlands tomorrow to start a new job assisting with boats in The Netherlands and in Barcelona. We wish him well!
So we're heading back to St Kitts with only four of us left on board and judging from the forecast, it will be another bumpy ride!
Best Wishes
George, Michael, Pom and Barbara
---