Portsmouths in Portsmouth

Blue Sky's Voyage
George & Michael
Fri 9 May 2008 21:26
Hello Friends "15:52.2N 61:35.1W"
The Portsmouths' holiday comes to an end tomorrow, so here's a quick blog to report on the first sailing holiday for Steve, Becky, Tom and Ben.
Our rendezvous in Bas du Fort marina went like clockwork and the following morning, after a couple of seasickness pills, we headed south to Les Saintes in light winds. We like to take visitors to Ilet a Cabrit, one of our favourite spots, to acclimatise and chill out and the Portsmouths agreed that this was close to paradise. Snorkelling was duly conducted and we took the compulsory evening stroll up to the fort to see the view of the islands and south to Dominica.
(from L, Steve, Ben, Becky and Tom in Les Saintes with Dominica in distance on R)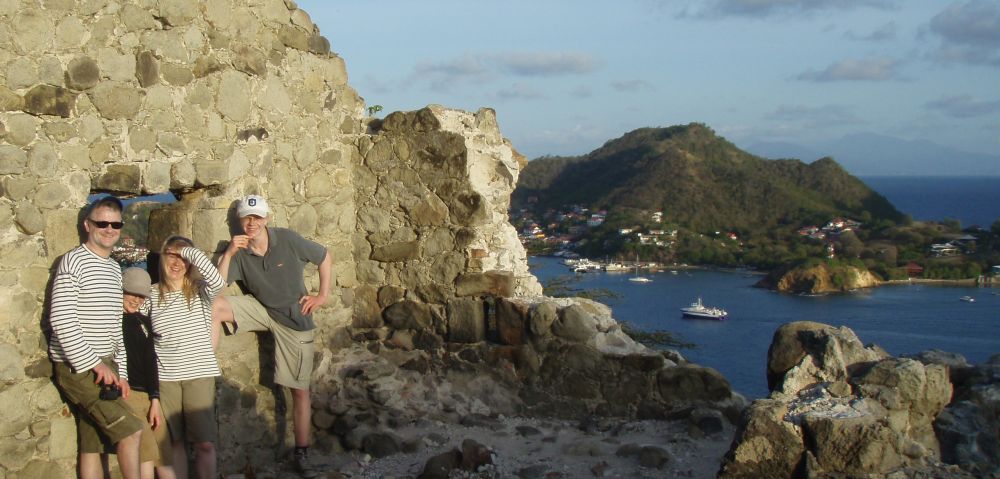 On the way back down Steve, Ben and George decided to explore one of the ridges and saw an iguana close up together with an iguana burrow where the eggs had been removed, though who or what did this and why was unclear. Becky, Tom and Michael returned to the beach via the local snake - a little black fellow, thin and about a metre long - probably not dangerous but a huge adrenaline rush as it was nearly underfoot !!
here's an iguana close up - scary looking, but actually pretty sleepy !

The spirit of adventure was seized and we decided to sail south to Dominica to the town of Portsmouth - how could they miss out ? We enjoyed a good sail down though without any fishing success and managed an Indian River trip in the afternoon, seeing lots of wildlife on the way. The following day was for an island tour with Winston, the same driver we were lucky to have last year. Too much was seen to list fully, but included cocoa, coffee, starfruit, nutmeg, cinnamon, breadfruit, mango etc etc by the roadside. We visited the Kalinago (Carib) reservation and enjoyed the cassava bread so much we returned for more. After an excellent lunch on a high terrace overlooking the Atlantic Ocean, we visited the Emerald Pool for a refreshing swim.
here we are on the track through the rainforest (fortunately not raining)
and Mum and the Boys enjoying a dip in the pool
A long journey north back to Guadeloupe and up to Pigeon Island followed so that we could enjoy the snorkelling in the Cousteau Reserve. All sort of curious fish followed us around as we swam and we saw Hawksbill and Leatherback turtles close to Blue Sky.
Soon we'll be off up to Ilet Fortune, our secret anchorage near Point a Pitre for a last look at a desert island before some sightseeing in PaP tomorrow.
The island was great, and the local chicken has been going on so well with a cockrel, that there are an extra six chickens now. After a fifteen minute "search" for a treasure, (why do you think it is called Ilet Fortune?) we went back to the tender attached to a bit of dead tree, fortunately still there. After Tom attempted twice (the second time successfull) to steer back to the yacht, Steve pushed away the tender - to Ben's delight, as he wanted to drive as well. Unfortunately, Ben also missed, and he had to go round and try again. (Ben, 12)
(Later) The Portsmouths have successfully been despatched to the airport in a taxi (VE day and thus bank holiday here, so no car rental today) and the consensus seems to be that they had a sufficiently good time that they'll return soon: maybe Martinique next time.
That's all for now, we're going to take it fairly easy for the rest of the month before heading south.
Best Wishes
George & Michael
---