Private View

Blue Sky's Voyage
George & Michael
Fri 28 Sep 2007 13:15
Hello Friends "12:38.25N 61:21.15W"
A short extra blog - we are in the Tobago Cays again - but this time there are (almost) no other boats due to the hurricane season. In fact the winds are classic trades - about 15 knot easterlies - so great sailing and fine conditions. There was one local tripper boat out yesterday afternoon, but as a traditional local boat, that added to the view.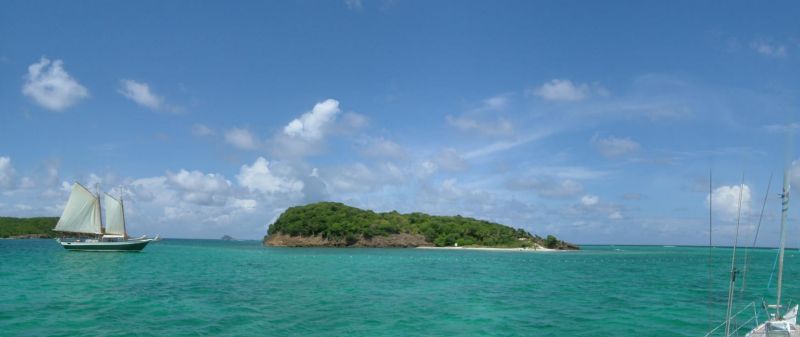 Our brief journey north to Bequia continued to be characterised by poor winds and good fishing. When W of Canouan, we saw an area of sea in front of us that appeared to be boiling: we wondered if there was volcanic activity as there are several areas nearby - hopefully you can sea the disturbance on this photo - the sea elsewhere was virtually calm.
In fact, the sea was boiling with fish - a huge shoal of mackerel being hunted by tuna. Since we were trolling a line at the time, we just drove back and forth through the shoal until we'd caught enough. We got to Bequia a little late after all the fussing, but then enjoyed excellent sashimi from this tuna:
(George's slightly grumpy _expression_ is due to missing afternoon tea because of the extra fishing...) Our fish diet also included a Peacock Flounder, speared by Michael in 20 feet of water whilst snorkelling, though rather a poor fish with not much flavour and too many small bones. And finally, last night here in the Cays, we enjoyed an enormous lobster, not caught ourselves we must admit, but procured by one of the local boat boys and very tasty it was too.
---
Just a couple of days to go before the end of the month and the finish of the Quiz. We have had some email issues, so if you have not already received acknowledgement of your Quiz entry, please send it again so we can be sure we have all entries.
Have a good weekend.
Best Wishes
George & Michael
---