Lagos (2)

Blue Sky's Voyage
George & Michael
Sun 29 Oct 2006 20:41
Hello Friends
We're still in Lagos awaiting radar fixes and more favourable wind. The plotter turned out to be OK and we're pretty sure that it's the scanner that's dead. (Particularly after Michael went up the mast with a spare scanner today to demonstrate that everything worked OK with a different scanner.) Our scanner is now in Lisbon with the Raymarine agent, so watch this space...
here's the view from the masthead, looking SSE
We rented a car for the weekend and had a tour around to relieve the boredom of the marina. On Friday we went west to Sagres and Cabo Sao Vicente, then a walk on the beach (Barnie in for a swim) at Carrapateira, then an excellent lunch on the cliffs and then up north to Aljezur. Today we went to Monchique (highest point in Algarve) and returned via another splendid lunch in Silves.
In fairness I should say that Ben and Barnie have cleaned and oiled the decks whilst we've been waiting around, so we are now looking fairly tidy. We've also dealt with most of the other maintenance and improvement items on the list - steering lubricated, lee cloths fitted, bilges cleaned, stowage reorganised etc. etc. etc.
note cleanliness of decks ....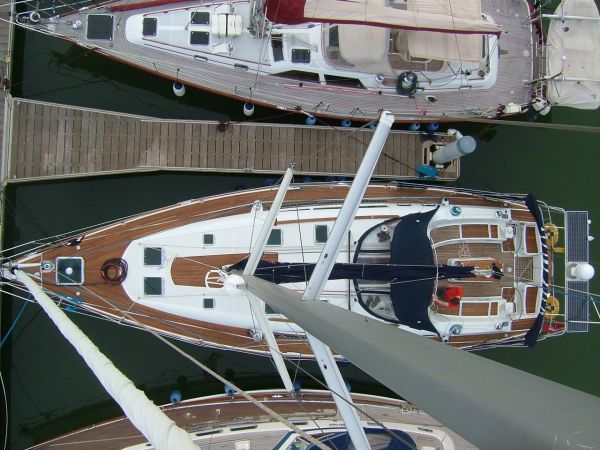 It would be very nice to speculate that we might be repaired and on our way this week, but meanwhile we're eating well - tonight's menu included some excellent chilli prawns and a fresh crab with George's homemade garlic mayo - so we survive tolerably well.
Best Wishes
George and Michael
---