San Andres

Blue Sky's Voyage
George & Michael
Sat 10 Oct 2009 13:24
Hello Friends "12:34.47N 81:41.8W"
We've spent a very happy week here in San Andres and we can report that it's a great island to visit.
We started well with a super day sail up from Albuquerque - winds just comfortable and though current and leeway was taking us too far west, we sling-shotted around a squall as we neared San Andres and recovered a lot of ground only needing a short tack in the lee of the southern point of the island.
The entry here is a well marked channel with plenty of good anchoring in 4 metres. You'll see from googleearth that San Andres has a windward reef and the anchorage is on the windward side in the protected water between the reef and the island.
The reef and indeed island are fairly obvious and well marked, which makes it all the more strange that a freighter is well and truly wedged on the reef, having apparently run onto it at full steam about a year ago. So if the watchkeeper can't even see an island then a mere yacht has no chance... Fortunately we always keep an active watch when under way, though not all yachts do.
Here's a view towards the busy end of the island, taken a few minutes ago.
San Andres seems to be a tourist destination for Colombians and there are plenty of tourists and duty free shops. But the island is very well supplied generally and there are lots of 'ferreterias' (ironmongers / DIY shops) and decent supermarkets. The price of wine and beer is good here, so we've stocked up well in anticipation of a dearth of supply in the San Blas. Despite warnings not to visit certain areas due to what we assume are crack problems, we wandered around quite happily with no trouble at all.
We are trying to obtain a new camera as our trusty Olympus underwater has been in the drink once too often and as you can probably see has sediment inside the lens giving a kinda 'silk stocking' look to the pics. Despite the duty free, camera pricing here is not too competitive so hopefully Alex can bring one from Canada.
We hired a golf cart ("not for highway use") for a look around the island and since there was no interest in licencing or insurance, we shared the driving and tried not to crash too much. As you can see below, the cart also provides a touch of shade for local hounds. We thought you'd also be amused at this memorable road sign...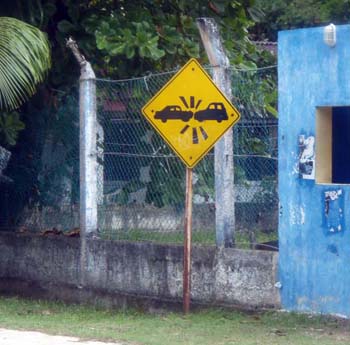 Fortunately we managed to get through the day without incident!
Not too much else to report here. We went out to the reef to snorkel and found a few good fish and moderate coral, but we've been spoiled with fantastic snorkelling in other islands, so nothing very special, though pleasant enough.
This afternoon we will sail south-east to the San Blas or the 'Comarca de Kuna Yala' to be more proper - the autonomous region of Panama. The trip is about 240 miles so we hope to be there sometime on Monday. The next blog will report on the San Blas and we're also looking forward to Alex joining us again there on 7th November.
Best Wishes
George, Michael and Matt
---