Back in the Water

Blue Sky's Voyage
George & Michael
Sun 18 Feb 2007 16:55
Dear Friends "17:05.6N 61:53.4W"
There isn't a huge amount to report, but I'm enjoying being back on board so much, I felt inspired to write a blog.
Annual maintenance went reasonably well and for the yachties who understand the technicalities, I'll say that the maxprop has been off, disassembled and re-greased and a new cutlass bearing fitted (the previous one having suffered at the encounter with the lobster pot). All the anodes have been changed and we now have a much larger hull anode and two shaft anodes; we also swapped the 1/2 inch watermaker inlet for a 3/4 inch to improve flow.
and if you thought THAT was too much information, here's a photo to prove it !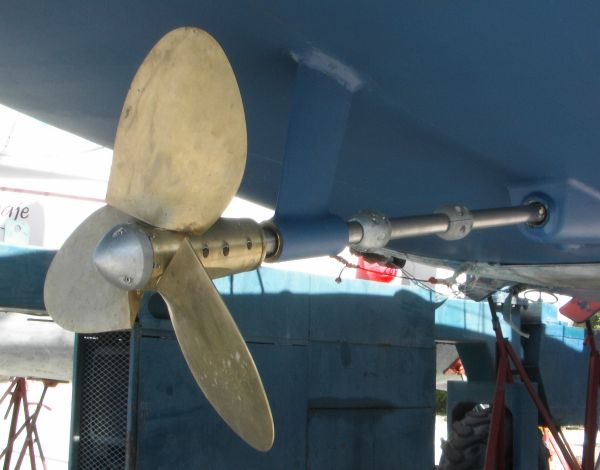 The antifouling has been completed, the teak decks cleaned and a couple of dings in the topsides paint repaired and the whole lot polished. So all in all, Blue Sky now looks quite respectable again.
Provisioning up a ladder while she was still out of the water was a bit of a bore, but the launch went well. I just motored round to Five Islands Bay and anchored comfortably with lots of space and only the pelicans, ospreys and terns to disturb me.
Or so I thought...
In fact a motorboat came along on Saturday morning and fixed a racing buoy to some sticks about 200 metres away, so I realised that I was to be entertained by being next to the upwind marker for the Valentines Day Regatta. An hour or so later, "Maltese Falcon" (270+ feet, modern square rigger, amazing) anchored a mile downwind, just to raise the tone a bit.

So I've spent a very enjoyable couple of days being entertained by the racing (pause as the fleet rounds the mark again). I used to say that I didn't like racing because it spills your drinks: now I think I do like it after all and I could watch it all day!
George is due back in Antigua on Tuesday afternoon, when I've arranged the 1,000 hour service for the main engine. After that, probably St Kitts & Nevis next stop.
Best Wishes
Michael
---