Corse

Blue Sky's Voyage
George & Michael
Sun 9 Jul 2006 10:17
Hello Friends
Shortly after leaving Cap Ferrat, we were approached by a speedboat with 3 x 250 hp outboards (totally excessive) piloted by a rather well-nourished chap and his attractive blonde bikini-clad deckhand, who asked "Which way to Monte Carlo?". Helpful as ever, we advised him to continue along the coast and pull in when he saw the skyscrapers.
He looked as though he'd just pulled off the business deal of the century and was in a huge hurry to have fun with the proceeds - all very surreal.
We also saw the biggest private motor yacht yet - the size of a cross-channel ferry!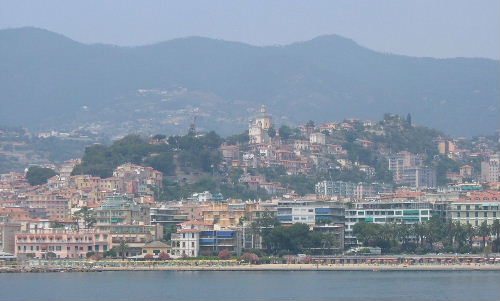 San Remo (above) was an interesting town and gets the G&M seal of approval - lots of old windy streets with interesting shops tucked into corners. Seriously good gelato won Michael's vote.
We spent a few days in Genoa, swapped the satellite modem and saw Vittorio, Tullio and Alice. Vittorio entertained us to dinner one evening and we entertained all the Italians on a another night when the heavens opened for the biggest downpour of the year - we all crammed in below decks and had another good evening.
Genoa is a town we know quite well and has all manner of interesting architecture and shops. Some of the shops seem from a different age for those used to out of town retail parks, but if you go into one of these aladdin's caves knowing what you want, the proprietor WILL find the exact thing you need. There are so many interesting images to see in Genoa, but we've chosen a wacky one - a tripe shop - in memory of Michael's Dad who enjoyed a plate of tripe.
Mary and Michele left us in Genoa to visit Michele's grandfather nearby and Lukasz from Poland joined the cruise. We enjoyed another good overnight crossing from Genoa to Corsica and managed to sail almost all the way.
We're now recovering from a swim and George's scrambled eggs for breakfast and wondering which beach to go to for our pre-lunch swim......choices, choices !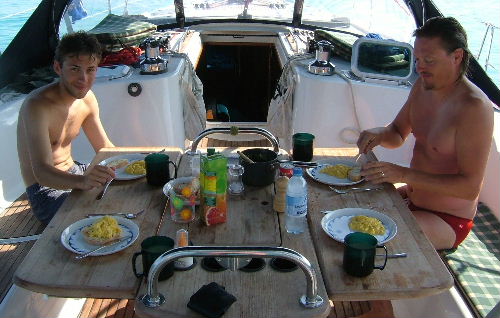 Have a happy weekend !
Best Wishes
George & Michael
---