Cruising in Company

Blue Sky's Voyage
George & Michael
Sun 25 Nov 2007 19:20
Hello Friends "13:00.5N 61:14.5W"
With only a month to go before Christmas (gosh!), it's time for a November report.
Andy arrived just in time for Friday night pizza in Prickly Bay on the 9th and spent the weekend with us before starting his new job as skipper of 'Esprit' when Sally returned the following Monday. Since our friend Cyndi on 'Kelp Fiction' thought Andy looked like Orlando Bloom, but rather more handsome, we think we owe you a pic - here's Andy:
And at long last our Cabin Boy arrived, better known as James, he finally made it to Blue Sky - 3rd time lucky after missing his first flight and then turning up with a trashed passport. Anyway, James has been learning the ropes and is very helpful with chores so it was worth waiting for him and the position of Cabin Boy appears filled for some time. As this is his first time outside the USA this is a voyage of some interest. Here he is checking out the reefs in the Tobago Cays: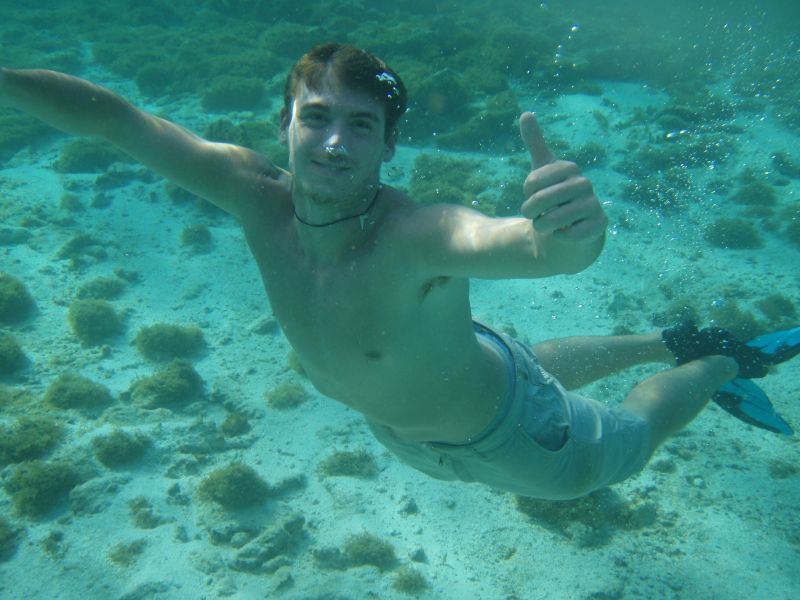 The surprise arrivals were Hannah and James Candlin and I quote from Hannah's email "Booked our flights weeks ago and completely forgot to tell you we were .. coming" Yeah right. Just as well we hadn't left Grenada already! Fortunately they arrived safely on 18th November.
As everyone has arrived and / or returned after visits, most of the yachts which have Summered in Grenada are now heading North for the new season and we were no exception. The Hurricane Season officially ends at the end of November, but the weather feels as though it has settled down after what has been a very quiet hurricane year.
We travelled up to Carriacou in convoy with 'Esprit' though we had a rather tedious journey as the wind was not quite in the right place .... maybe we have been spoiled too often with perfect conditions! In Carriacou we met up also with Fred and Cyndi on 'Kelp Fiction' who we met earlier in the year in St Lucia. An enjoyable island tour followed for all nine of us, mainly for the benefit of Andy and James who had not seen Carriacou before.
We then sailed up in a convoy of 3 boats to Union Island. Modestly should prevent us from noting that we weighed anchor off Carriacou last and anchored in Union first, despite being the smallest boat - but what the heck?
Maintaining the three yacht convoy, we went up to the Tobago Cays for a day and the snorkelling was not bad - here are a couple of shots on the reef:
I did chase a glorious parrot fish hoping to get a photo, but it was decidedly camera shy and scooted off before I could get a decent shot - sorry !
We then sailed up to Bequia in convoy with 'Kelp Fiction' and enjoyed an island tour here yesterday. Bequia is quite small but a friendly island and has many services for yachts - including no less than four sailmakers. The highlight of our tour was a visit to the Turtle Sanctuary where a couple of pictures probably tell all.
Firstly, a green turtle on the left and a hawksbill on the right...
and because you've all been such good blog readers, a cute shot of three day old turtles, with George so you can see how small they are. When we get some decent internet, I have a baby turtle video to upload to the website.
We took James and Hannah to the airport this morning for their trip back to the UK via Grenada and we have a suspicion that they had quite a good holiday. Doubtless they will report to family soon. Now we're hanging around here waiting for the wind to be a little more suitable for a trip up to Martinique. Right now there is a 30 knot wind forecast for tomorrow, but since we have our anchor completely buried under the seabed and loads of chain out, we await the winds cheerfully and will use the extra windmill power to make water.
That's it for now: we hope the weather is good for you, wherever you are!
Best Wishes
George & Michael
---