Happy Easter All

Blue Sky's Voyage
George & Michael
Sun 8 Apr 2007 16:06
Dear Friends "17:55.48N 62:52.24W"
A very Happy and Peaceful Easter to All.
We are moored in a super bay towards the N end of St Barths - maybe you can zoom in on the Google Earth blog map and see the bay. It is a marine reserve and turtles keep surfacing to breathe all around. We went snorkelling to the beach and swam past several turtles and a large spotted ray.
On our return a booby alighted on the pulpit (front of boat) and didn't seem fearful of us at all. They are weird prehistoric looking things, though not quite as weird as the pelicans which we call 'pterodactyls'. Boobies are great fishers and dive into the sea much like our European Gannets.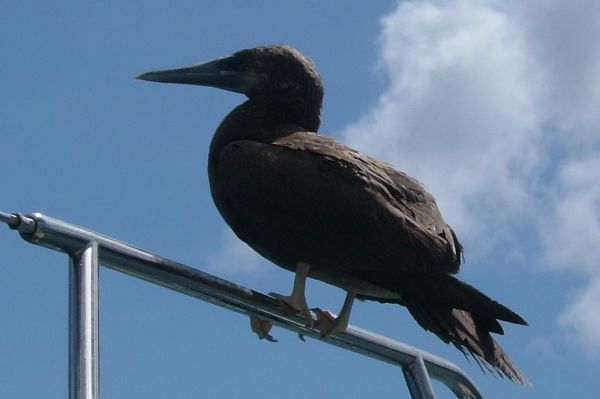 We have an extra crewmember - Marco - from Genoa who joined us yesterday and will sail with us for a few weeks. I daresay he will be co-opted to write a blog in a week or two.
St Barths is almost as chic as its reputation - the little harbour of Gustavia is crammed with huge yachts and ringed by Dior, Gucci, Louis Vuitton and all the usual suspects. And jolly silly it all looks too ! Despite all that silliness the people are friendly and more amendable to speaking English occasionally, given the number of visitors from the USA.
As we were leaving St Kitts, we went foraging ashore and found this tree that reminded us of the Atlantic coast of Cornwall - the prevailing winds leaving their mark quite clearly. The poor thing looks as though it gave up its attempt to grow higher and just decided to hide behind the nearest rock.
Next stop is St Martin where we plan on a big shopping spree in the duty-free chandleries, Some repairs can be completed and the spares locker topped up.
Best Wishes
George & Michael
---