Ua Pou

Blue Sky's Voyage
George & Michael
Sun 11 Apr 2010 19:43
Hello Friends "9:23.8S 140:07.7W"
We stayed for 4 weeks in Nuku Hiva, despite the fact that we have to rush across the South Pacific in the next 7 months to get to New Zealand before the Cyclone Season starts. It was a very special island and we'll remember it well.
We checked out with the Gendarmes and on Easter Monday we enjoyed a brisk sail south to Ua Pou, just 26 miles away. We knew that the harbour where one checks in to Ua Pou was rather exposed to the E swells and were not sure how we would be able to anchor safely. Our fears were confirmed when we arrived and saw that most of the bay was taken up with dredging barges and their tug and the other sailing boats there were Med-moored to the inside of a rough breakwater with long stern lines to lampposts, bushes, rocks - anything.
This is the sort of situation would have troubled us a few years ago, but fortunately we had enough crew for Michael to steer, George to drop the anchor as we reversed back to the breakwater boulders and Simon to jump off and swim ashore with a stern line in his teeth [slight poetic exaggeration here - Ed.] shin up the breakwater and attach it to a lamppost so Michael could winch it in sharpish and keep us off the other craft on each side. All managed swiftly, to the obvious disappointment of those waiting for the crash on the other boats: fortunately we had 3 on board to make the manoeuvre easy.
We'd overtaken Tumshi [OK, so their mainsail had an issue...] and they were able to lie against us while Simon fixed their stern lines to bushes and a rock. We were rewarded by an excellent spaghetti bolognese prepared by Angelica that evening and bananas flambé from George.
All in, a most appalling harbour, compounded by the wind blowing dust and grit off the top of the breakwater all over the boats. Sadly the Gendarmes weren't home on Tuesday morning and an enquiry as to whether Michael would like to come back later met with a response along the lines of "We're going - now - do you want the details or not?"
But to be fair, we should point out that the locals are very friendly here. As we stepped ashore, we were accosted by one of them in his 4x4, who started conversation and insisted on providing slices of watermelon for us.
Ua Pou is spectacular with rock spires like the dolomites [like Mordor - G], though as you can see it was a touch overcast - in fact the top spire is almost always cloud-topped.
As soon as Michael returned from the Gendarmerie, we left the "dock" asap and sailed around the W side of the island with Tumshi. Since the winds had been blowing fairly well, there was a large swell and only a singe adequate anchorage (on the whole island) in a small deserted bay. Fortunately it was empty and Blue Sky anchored bow & stern with Tumshi following nearby.
Whilst lunching, we noticed a tree with lots of dots on it - bino's revealed a laden mango - a shore expedition followed as Simon drove the tender and George & Michael leapt off the bow on to rocks at the top of the wave, it being far too rough for a beach landing. The mango tree was neighbour to many lime trees and all were clearly abandoned and surrounded by rotting fruit. We soon had 2 large bags full of windfall mangoes and lots of fresh limes, vital ingredients for Blue Sky mango chutney, another favourite.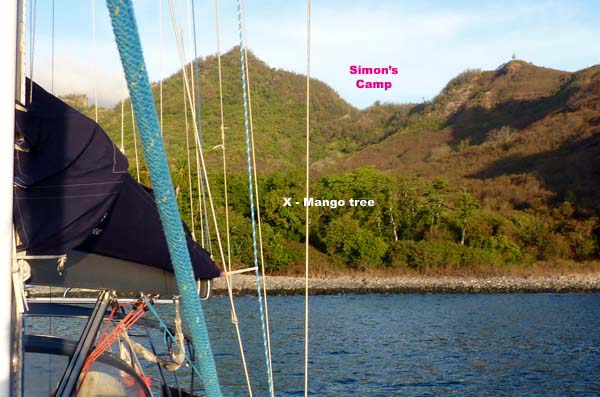 Quite a peaceful place - you could see and hear the mangoes falling off the tree as the goats trouped off the hill down to the stream to drink.
We bid farewell and bon voyage to Friedl and Angelica on Tumshi who are off to the Tuamotus and then Tahiti to receive their new mainsail.
Simon decided on another of his 'little adventures' and decided to go exploring the ridges - his camp is marked above and you can see the view from there at the end of this blog.
We stayed in this bay for 4 nights and decided it was time to move on. Sadly the beach in the next bay - with a village and friendly locals - was impossible to land on safely with the swell and breakers, so we continued on to the next island, Tahuata.
By now the open sea swell had flattened and we had an adequate journey with a variety of winds and a touch of motoring to get upwind to Tahuata, where we are now (despite the position fix at Ua Pou). We arrived at 02:30 and despite little sleep, here I am preparing your blog before breakfast...
But Tahuata is another story (we now have the bay to ourselves with a perfect white sand beach etc...)
Here's the final view from Ua Pou - Camp Simon (camera in a tree) Blue Sky the dot at foot of bay . Just as well Simon climbed up to catch the shot!
Best Wishes
George, Michael and Simon
---