Silence

Blue Sky's Voyage
George & Michael
Fri 29 Dec 2006 20:18
Hello Friends
As I compose the blog today, Ruud has left us to head across to Pigeon Island (the Cousteau reserve) to do some diving. Ben and Barnie have taxied to the airport for a flight to Antigua and more fun & games.
Christmas in Les Saintes went really rather well. We found a delightful anchorage off Islet a Cabrit which was quiet and sheltered from the swell: in traditional French fashion, this was a prohibited anchorage (cables on seabed) but was well patronised regardless. Blue Sky was duly decorated, the Christmas tree was hoisted on port spreaders and even Santa paid a visit.
Our resident chef more than exceeded expectations with smoked salmon starters, roast turkey and all the trimmings followed by Christmas pud. The accompaniment of a double magnum of Veuve Cliquot, amongst other fine wines, ensured we were in good spirit...
The Christmas crackers (purchased in Gibraltar) contained sparkles which now glitter all over the yacht and defy cleaning attempts. Needless to say, Boxing Day went quietly, but swims were enjoyed by all and Michael, Ben and Barnie went for the Boxing Day walk by climbing up to Fort Josephine. Despite being chased by a goat, Michael retained as much dignity as could be expected by a near-pensioner with a hangover.
The view from Fort Josephine looking South...
Another exhilarating sail back to Bas du Fort - eight and a half to nine knots in flat sea with fingertip control of the wheel - ended the Christmas break and the crew's sailing. We anchored off the marina under sail with perfect precision, just because we could! It is a credit to the competence and harmony of the crew that we could sail up the narrow buoyed channel, gybe the main, pick up speed and round up to drop the mainsail and then the anchor (in a busy anchorage), all with hardly a word being said.
Thank you to Ben, Barnie, Ruud and Arthur!
Silence has now descended on Blue Sky, interrupted only by the quiet sipping of two very nice cups of tea!
We intend to relax and gently explore a little more of Guadeloupe before heading up to Antigua to meet our friends Pom and Barbara later in January.
Very Best Wishes for a Very Happy and Healthy 2007 !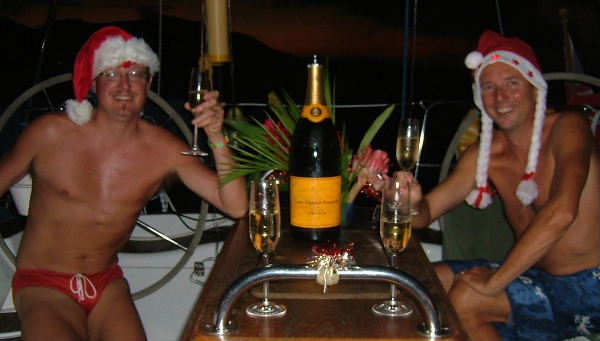 George and Michael
---