Carriacou

Blue Sky's Voyage
George & Michael
Sun 5 Aug 2007 19:52
Dear Friends "12:28.9N 61:29W"
We're in Carriacou to see the Regatta and it's very entertaining. Both this island and Petite Martinique (which are both part of Grenada) are known for boatbuilding. They build the traditional way here and very beautiful wooden boats are constructed on the beach - literally. Here is G checking one out as we had a tour of Carriacou last week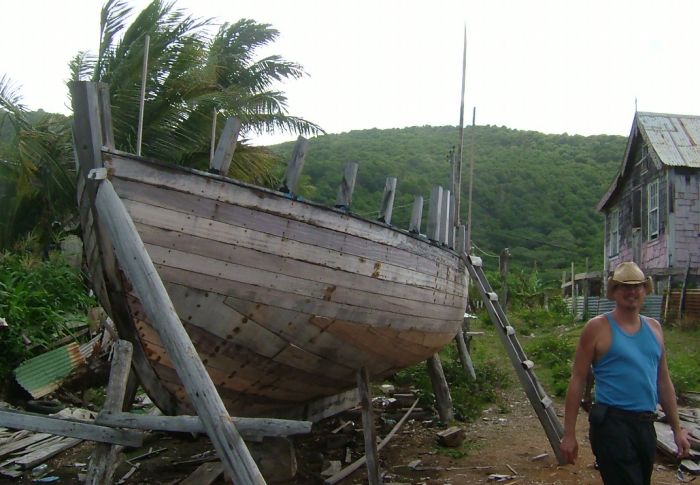 The timber for the keels is some hardwood which is imported from Guyana but the rest of the boat is built with local cedar.
The racing is fun and we have more this afternoon and again on Monday tomorrow - which is Emancipation Day and a public holiday here. We saw a gentle collision nearby as one boat's attempt to take the wind from another failed as the target boat edged upwind to defeat the aggressor. All very gentle and no harm done.
A couple of thoughts other than sailing this week....
Food Miles
Sugar sachets in Antigua are imported from Hawaii despite being in the middle of a sugar cane area.
Fruit Juice in cartons comes from South Africa and Cyprus. Milk cartons sometimes come from South Africa too.
and Washing-Up Liquid from Indonesia !!
There must be a good reason for all this nonsense, but it escapes us. Answers in an email please to the usual address.
and in a more light-hearted vein...
Names
There is a volcano (undersea but active) nearby called "Kick Em Jenny" which must rate as the best volcano name on the planet. It's just N of Grenada main island and we have to keep away from the area when we work our way south.
and on the NW side or Petit St Vincent there is a channel called "Crazy Corrigan's Crooked Passage"
and in Tyrell Bay, a dangerous rock called "bareboat bounce". (A Bareboat is a self-drive charter boat and bounce needs no explanation)
***
The only other thought this week is that the locals like their music LOUD. Yesterday afternoon we were anchored in the same position as today (check the GoogleEart pics) and the music from Hillsborough - more than a mile and a half away (nautical at that) was so loud you could feel your chest shake and Michael got a headache. We moved.
There must be a great business opportunity here selling hearing aids.
So that's all for this week. Take it gently and don't forget your water wings if you're in the UK.
Best Wishes
George & Michael
---