Return to Lymington

Stella
Alan & Mary Phypers
Sat 10 Sep 2011 15:19
50:45.0710N 001:31.5476W
Thursday 08 September 2011, Lymington Yacht Haven
We left our final anchorage in Studland Bay at 1400h on Thursday 25 August in order to make the tide through Hurst Narrows into the Solent. Once again we were treated to a lovely beam reach for the final 20nm to Lymington.
Our final anchorage in Studland Bay
Passing Hurst Castle and The Needles, the gateway to the Solent
We arrived at Lymington Yacht Haven at 1700h to find our friends James and Robin there to welcome us with a bottle of champagne. We barely had time to drink it before the 4 us set off again in James's Nordic Folk Boat for the final Thursday evening race of the season.
Celebrating our arrival back in Lymington
We returned to Lymington 1 year and 10 days after we set off having sailed 12,000nm. During this time we went as far south as 11˚ 58'N (southern coast of Grenada) and as far west as 43˚ 04'W (Steele Point, BVIs). Lymington at 50˚45'N, 01˚31'W is the most northerly and easterly point of our trip. We have had an absolutely fantastic time, seen some great places and met so many great people. It is however nice to be back and see everyone at home.
Since arriving back in Lymington we've been inundated with visitors, drunk copious amounts of alcohol and have barely had a night to ourselves. (This is also a thin excuse for not updating the blog).
Iain and Fiona were our first visitors keen to show off their new Sadler 34. They were quickly followed by Jason and Alison in their Nicholson 32 who were on their summer holiday. Alan's Mum and husband Brian then stayed a couple of nights, followed by Mary's sister Wendy and niece Cecelia.
Alan's Mum Sally and Brian
Drinking the last two Caribbean beers from the bilges, unfortunately the Piton had gone off!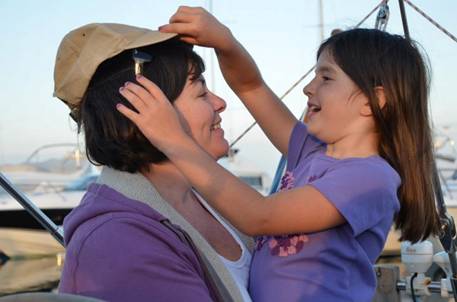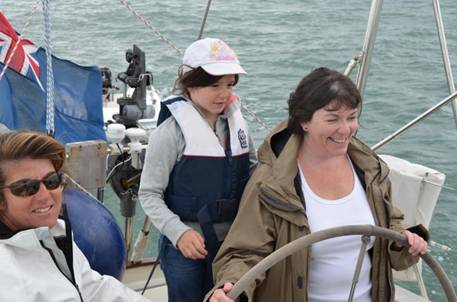 Mary's Sister Wendy and niece Cecelia
The paddler steamer Waverley approaching Yarmouth
We were then supposed to be going on a mini 'Solent cruise' in company with James and Robin but the great British weather took a turn for the worse and with 45kts blowing in the marina we decided to stay put and enjoy the delights of Lymington in the rain. We did however manage lunch in Cowes courtesy of James's power boat.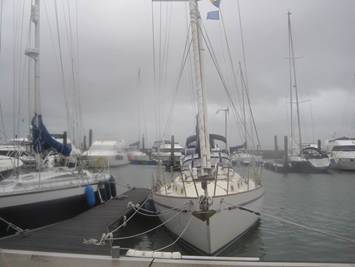 Stella berthed in a windy and rainy Lymington Yacht Haven
We have been closely following the passage of the various hurricanes which have been battering the Caribbean and eastern seaboard and have been thinking about all our friends who are currently in the area - especially Nakesa, Sestina, Maymio and Sulana. We hope you are all safe and well.
Although we are back in Lymington we are desperately clinging onto the dream of the last 12 months. We've decided it doesn't officially end until we move back into our house in London in two weeks time. We will then be hauling Stella out in October for a well earned rest over the winter. So this is our penultimate blog entry before we sign off in a few weeks time.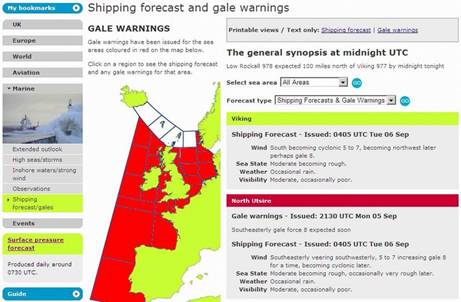 Bad weather by British standards, but we expect this is nothing for those lucky enough to still be cruising the eastern coast of Canada and the US.
Red sky in the morning........
---