Islas Cies & Baiona

Stella
Alan & Mary Phypers
Fri 1 Oct 2010 23:05
42:07.226N 08:50.626W
Thursday 30 September and Friday 1st October 2010 (and photos from 28th September)
On Thursday morning we awoke to sunny skies again so decided to return to Islas Cies as it was so lovely.
We arrived to find the anchorage relatively busy with what looked like a corporate jolly going on with about 15 boats, but after a couple of hours they all left and we had the place to ourselves. The photos don't really do it justice but it still looks amazing!
Today we headed for Baiona, our final stop before heading south to Portugal. We had a lovely sail even if it was a beat but it was a short enough distance for us to take our time. We have also realised that diesel is costing a lot more than we realised.
Baiona the town seems very nice but the marina is a bit disappointing as due to planning issues they have not been allowed to build any proper facilities, which we suspect may be political as they are competing with the yacht club marina. We tried to go to the yacht club which all of the books rave about but were told it was privado!
Unfortunately we may be here for a bit longer than planned as typically after 6 weeks with the prevailing northerlies the wind is now from the south ( which it isn't supposed to do at this time of year ) and is forecast to be like that all week. We will keep an eye on the forecast and hope it changes but it doesn't look great at the moment. We need to be in Lisbon by next weekend as my sister Wendy is coming out and Toby is joining us for the sail to Madeira, but 240 miles into the wind on the Portuguese coast won't be much fun!
We have wifi in the marina at Bayona, so we can finally upload the photos from the last three days
Combarro from the sea
Leaving Combarro
Anchorage at Ensenada de San Simon, at the top of Ria de Vigo
All the pictures below are the fantastically stunning Islas Cies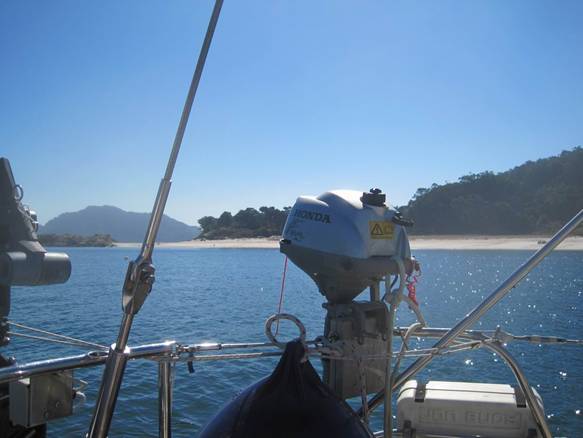 ---