Horta Azores

Stella
Alan & Mary Phypers
Fri 24 Jun 2011 13:03
Friday 24th June 2011, Horta, Azores
We've now been relaxing in Horta for over a week since we arrived early on Tuesday morning (14 June).
The final 24 hours of our trip from Bermuda were a bit varied. During the day on Monday the wind slowly built to over 20kts which meant we were making about 8 kts and hopeful of arriving at around midnight. But just as Mary started making dinner the wind picked up to 30kts, gusting up to 38kts and it rained heavily. It was the classic sign of a front passing, so we shouldn't have been surprised when the wind veered to the west (i.e. dead behind us) and died to nearly nothing.
The next 5 hours was a horrible motor in a large swell with no wind and the boom crashing around doing its best to rip itself from the gooseneck (mast). Just as it started getting light the wind filled in and we sailed the last few miles into Horta, arriving at about 0600h.
Usually when arriving in Horta you can see the towering peak of Pico from over 50 miles away, but we didn't see a thing until we were about 5 miles from the island.  However shortly after we arrived the cloud lifted and we got the classic view.
We spent the next few days catching up on sleep, getting Stella clean and tidy, drying her out and doing the laundry. We have the luxury of unlimited water and 240v electricity so for the first time in 8  months  can actually hose down the decks!  Up until now we have had to do with a natural wash, cleaned by the waves followed by a rain shower for a freshwater rinse.
We have also been making the most of the €1 beers in the many bars, a bit better than $7.50 in Bermuda.  Although we loved the Caribbean, there is something nice about being back in Europe. The weather is a bit cooler, everything is much cheaper and you can buy the food you want in the supermarkets. Also, being back in Portugal means custard tart tasting has resumed!!. J
On Thursday, having completed the immediate boat jobs we explored the town of Horta.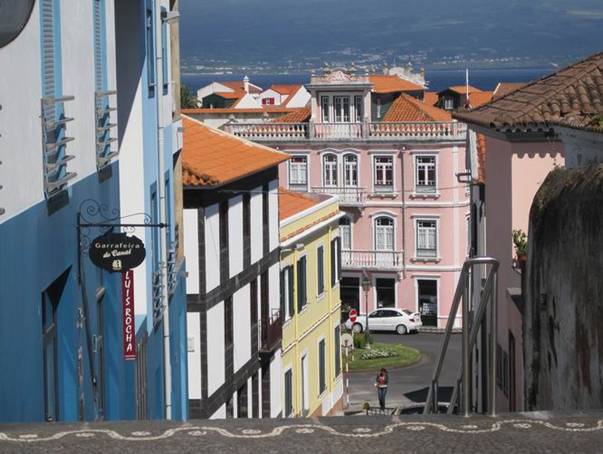 On Friday we hired bikes and were driven up to the top of the Island where we walked around the rim of the caldaria. It was a then a gentle hour long roll down the hill on our bikes back into town.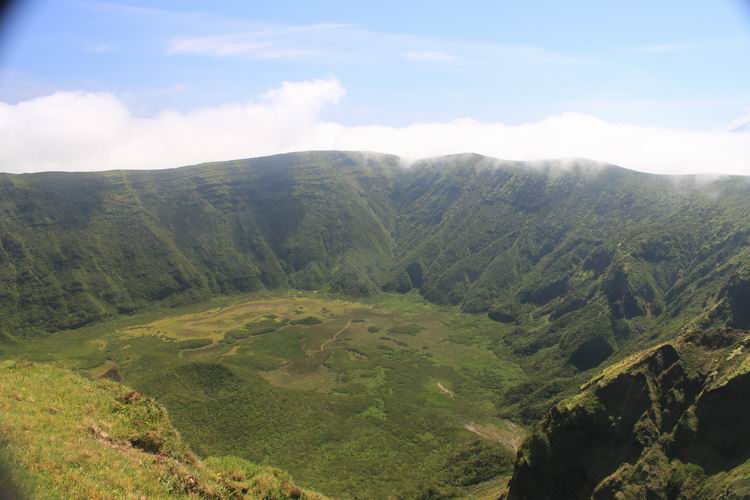 It's very busy with transiting yachts and the marina has been full for several days.   We remained rafted on the reception wall until Saturday morning.   We had a nice view of Pico from the reception wall and were central to the main bars, but unfortunately we were a tempting boat for new arrivals to raft up against, having just completed a long ocean passage.   We don't usually mind people rafting up alongside - it's all part of the experience. However virtually all the new arrivals have been beaten up old steel or aluminium French boats. If you are very lucky they'll have at most two pathetically undersized fenders and very occasionally will have rigged a couple of mooring lines before they pull up alongside.   So we were very happy to be allocated a proper berth in the Marina, in fact it is so nice here we have stayed for longer than originaly planned.  Being in a proper berth means we can also get on with more boat jobs and Alan has been busy for the last few days varnishing the cap rail.
The Marina, a major stopping point for boats crossing the Atlantic
One of the more 'well travelled' French boats
As you may know, it's a tradition in Horta for each boat to do a painting on the harbour wall. The painting from our previous trip in 2002 on Galatea is still here and amazingly Alan's from Q2 in 1992 and Born to Run in 1998 are also still here, although they are a bit faded despite having been topped up a few times over the years!.
Whilst Alan varnished the cap rail, Mary painted our Stella painting and 'renovated', for the 3rd time the original Q2 painting from 1992. We're still contemplating renovating the Born To Run painting (originally from 1998, and renovated in 2002) – it's very faded and we'll probably have to start again.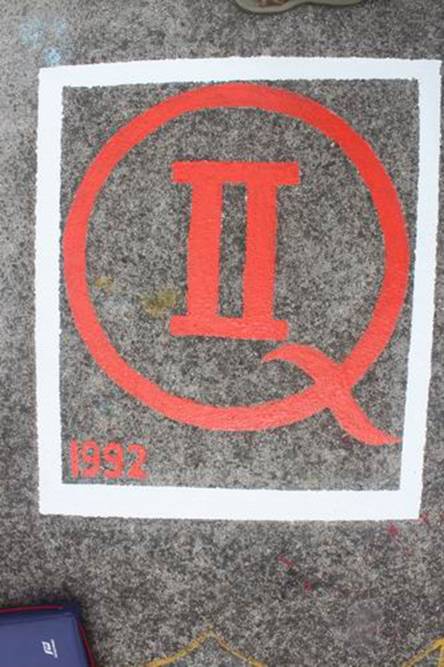 Alan sanding down the cap rail before varnishing it.  Horta is a great place for doing boat jobs as it is not so hot and we have a marina berth with fresh water on tap.  Although it had been varnished in Antigua in February it desperately needed redoing as the Caribbean sun is not kind to varnished wood work.
Sadly other than Indra all of our ARC friends are now ahead of us but we have decided to join the Ocean Cruising Club 'OCC' which by chance were having a dinner with about a dozen other boats on Tuesday night at Peter Cafe Sport so we have now made lots of new friends (and hangovers).
On Wednesday we caught the ferry over to Pico and hired a car to drive around the island.  From the high road we had great views of Sao George.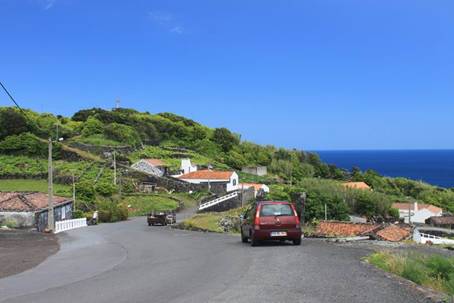 On Thursday Alan finally managed to climb Pico with Mark and Carrie from the OCC.  At 0600 in the morning there was low cloud over Pico and it didn't look like it would be possible to climb so Mary stayed in bed.  Alan however had to go to Pico anyway to return the hire car from the previous day.  Luckily as they got closer to the mountain the cloud lifted and as ascent was possible.  After driving up to the 'base camp' at 1200m it's then a further 1150m ascent to the summit.  The final 100m was a real scramble up loose scree and rock.  It was a long a tough climb, but the views from the top were amazing.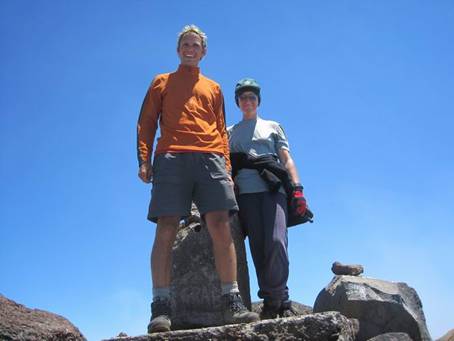 We now plan to stay a couple more days in Horta and then move on to Sao Jorge and Terceira.
---