Relaxing in Lanzarote

Stella
Alan & Mary Phypers
Tue 2 Nov 2010 19:36
Apologies for the lack of updates since Friday (we've had complaints / concerns from some of 'regular listeners'). Having put Stella back in the water on Friday afternoon we've been relaxing in Marina Rubicon – which is a lovely (and comparatively cheap!) marina. It even has a nice swimming pool for use by visiting boats. However, the wi-fi has been broken since Saturday. It's always going to be fixed 'later today' but four days later it's still not working – which is our excuse for the lack of updates (we've had to resort to the expensive mobile phone)!
On Saturday we spent the day relaxing on the boat after the three days of hard work to repaint Stella. Alan played 'wiring his laptop to the navigation instruments', whilst Mary got into another book. On Sunday we hired a car and did the tourist trail around Lanzarote. We whistled around the main highlights – and concluded a day was all that was necessary.
Lanzarote is a very barren volcanic landscape. The photos below are taken from the Timanfaya National Park which was transformed following major volcanic eruptions 200 – 300 years ago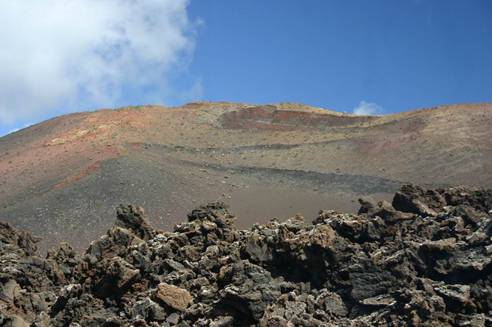 Arrieta seen from the view point south of Haria
Looking NE from the viewpoint south of Haria
Graciosa seen from the Mirador del Rio
We had planned to leave on Monday to anchor off Fuerteventura, but it has been much windier than usual which has precluded anchoring, so we decided to stay put and make the most of Marina Rubicon to get a few boat jobs done. On Monday it was over cast all day and we even had rain!! Mary has started on the menu & provisioning planning for the crossing. It is quite scary when you multiply provisions for 4 people for 3 weeks. For example we potentially need 50 litres of long life milk - perhaps we'll need to consider powdered milk! Meanwhile Alan braved his first overseas haircut of the trip so now looks much smarter!
The weather has settled down again and the winds are forecast to be light for the next few days, so we are hoping to leave tomorrow for Fuerteventura. However, we're going to a BBQ on board another ARC boat tonight, so we may be fighting hangovers tomorrow morning!
---