Back to Antigua

Stella
Alan & Mary Phypers
Sat 30 Apr 2011 01:28
18:24.8N 064:36.2W
8th April to 22nd April 2011
After the BVIs we headed back south to Antigua to meet Marys brother Michael and Annie. We had a horrendous over night sail to St Martin with the wind right on the nose and big seas. Typically having beaten north into north easterlies for the last 3 months as soon as we want to head south it turns south easterly! We hadn't planned to stop in St Martin so after a good nights sleep we moved on to St Barts which was even more lovely than we remembered.
We caught the end of the Voile de St Barts, a super yacht regatta so the town was buzzing and we were treated to a great firework display as we ate our dinner.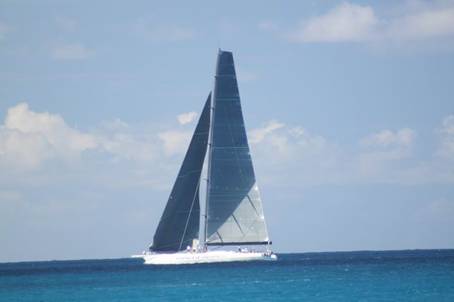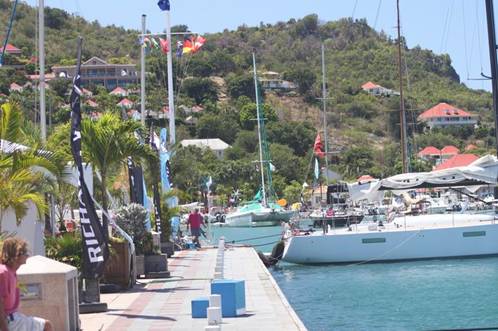 After the horrendous trip from BVIs the wind turned easterly and we had a great sail on to Antigua even if we arrived in the middle of the night again. We provisioned up in Jolly Harbour before mooring up in Nelsons Dockyard to prepare for Michael & Annie's arrival.
Sun set anchored in Jolly Harbour
Stella moored in Nelsons Dockyard
We had assumed they would be a bit jet lagged on arrival but we couldn't have been more wrong, they were straight on the beers and off for a night of rum punch and partying. It was the beginning of Classics week so there were bands and free happy hour drinks every night at the yacht club which was great.
Michael and Annie enjoying a rum Punch at the Classics week Opening Party
Alan with Graham and Charlie from Indra, the Bowman 42 that also did the ARC in November.
After a couple of nights in English Harbour we headed out to watch the start of classics week.
Ranger and Valsheda, the two J class boats battle it out soon after their start
And then on to Green Island and Nonsuch Bay where we spent a couple of nights. The first night was very stormy with a massive thunder storm but it brightened up the next day and we introduced Michael & Annie to snorkelling and cocktails at Harmony Hall
On Sunday night it was back to English Harbour for the regular party at Shirley Heights.
On Monday we had to stay in Falmouth Harbour to get a spare part for the water maker. It was very light winds for the final day of Classics Week which allowed Alan to take the dinghy right out off shore to play 'yachting photographer' in an attempt to get some good shots. He has uploaded his photos to our other website at http://jalbum.net/browse/user/album/958126/ so you can judge for yourself whether he succeeded.
By Tuesday the wind had died completely so we headed to North Sound for a couple of nights, it was absolutely stunning.
On the way back south we stopped off at Hermitage Bay where we had cocktails ashore in the posh hotel – wonderful!
A typical scene to sum up the week – Mary helming, Annie bird watching, Michael reading his book and Alan taking photos.
The snorkelling had been a bit disappointing in Antigua but at the last minute we stopped off at Cades reef where we saw great fish and a shark!
Eye-balling our way into Cades Reef in the unusually calm weather.
We had a great time with Michael and Annie, we had very little wind so didn't do much sailing but maybe that was a good thing as judging by the first day they might have been a bit sea sick if we had, and we wouldn't have made it to North Sound. When we arrived back to English Harbour on Friday night everything was a bit dead as it was good Friday but we had a lovely last night meal in Admirals Inn in English Harbour.
We said goodbye to them on Saturday and on Sunday we were racing on Nakesa, our friends Swan 57 in Antigua sailing week. Sadly it was a short race for us as we ripped the headsail badly after rounding the first mark, so had to retire. We managed to get it repaired the same day and were confident that day 2 would be better.
But it was not to be. As we unfurled the main (Nakesa has in-mast furling for the main) the top swivel of the in-mast furling failed and the main fell to the deck. Unfortunately it's a major failure and it's going to take over a week to get a replacement part. Because it's a furling main with vertical battens it's very difficult to do a normal hoist and drop so we couldn't even fly it as a normal non furling main. So that was the end of Antigua sailing week for us! It's been very windy (25 – 30 kts) for the last few days so had we been racing there is a high chance that something else would have broken! But at least it's given us a chance to catch up on some of the many boats jobs which were not possible when we had guests.
Commiserating with Nakesa and getting the vertical battens out of the sail so we could fold it up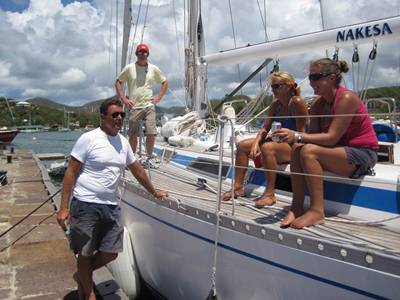 Antigua Race week used to be THE Caribbean regatta with over 300 boats. But times have changed and this year there are only 100 boats, a large percentage of which are charter boats. The organisers have sized the shore side infrastructure for a much larger number of boats. So whilst there is no shortage of bars or places to get food and there is no question of being cramped in the massive marquee where there are live bands every night, there is no real atmosphere as there aren't enough people. Sadly it all feels like an event which has had its day. By contrast Classics Week although it only had half the number of boats it had a much better buzz and parties were brilliant.
The Caribbean season is coming to an end and we're now focusing on getting Stella ready for the sail back, with the first passage to Bermuda. We are aiming to leave for Bermuda in about one weeks time, but if the weather isn't right or we are not ready we'll wait a few days. We'll probably stay in Antigua now to finish the boats jobs and provision, although we might have one last sneaky stop in St Barts on the way to Bermuda as we like it so much there. However it would put us 60 miles to leeward of Antigua, which doesn't help our course to Bermuda if we have a NE wind so we may leave from here. Although we'll be very sad to leave the Caribbean, we're excited about exploring new places.
There are lots of other boats leaving so whilst we may not quite go in convoy we should meet up with them all in Bermuda and they won't be too far away if we get into any problems. At the moment we are planning to sail back double handed which whilst it will be a bit scary it will also be nice to have Stella to ourselves after so many guests.
---