Bonus weather

Stella
Alan & Mary Phypers
Mon 3 Oct 2011 22:23
Having moved back into our house in London we thought this would be our final blog entry to formally 'sign off', but strange things are happening to the UK weather and we've been enjoying a bonus week back on Stella!
We spent the week before our tenants moved out in Lymington doing a number of boats jobs and admin......
Mary getting back into the chores of UK life admin.
Cleaning & pickling the watermaker as sadly we won't be using it for at least 6 months.
Alan had carelessly managed to 'drop' a small plastic tube down the oil filler of the engine when he was topping it up with oil. The offending tube was now in danger of disappearing into the internals of the engine and causing untold damage so it had to be retrieved. This involved removing the starter motor, oil filler and crank case breather, but provided a good opportunity to give the engine a nice clean and touch-up with green Volvo Penta paint.
Taking a break from chores for a walk in the New Forest.
Just before we moved back into London we spent two days at the Southampton Boat Show. On the Monday we bumped into our ARC friends James and Lesley from Cobra Libra and Andrew and Susan from Andromeda. This was a fantastic surprise as we didn't know either of them were back in the UK. An impromptu curry night followed at a local curry house and we caught up on 6 months of news.
Our tenants moved out of our house in mid September. We decided to wait a couple of weeks before we moved back in so we could do some work on the house, get new carpets fitted and the wooden floors renovated.
Familiar DIY has now replaced boat jobs..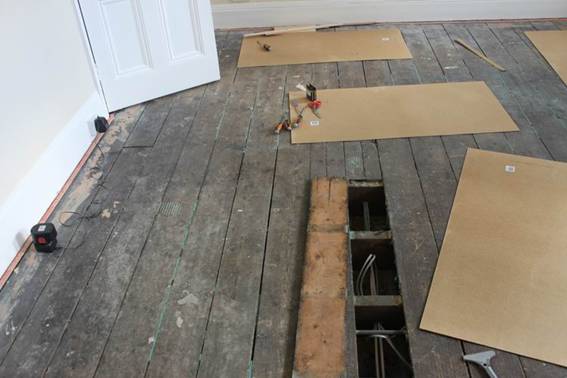 The house was totally empty and the only plates we had were the dog bowls we had brought from the boat which were to be used in very rough weather!
The cushions from the garden furniture became our bed, helped by the lovely springy new carpet! We have however had to take the doors off as it is too thick for them to close!
Then our furniture and stuff arrived. Two lorry's worth!!!
Opening the first of 7(!) storage crates.
We've just spent the last year living in a 40 foot space which seemed more than big enough. What on earth are we going to do with all this stuff we've been storing? We can't possibly need it all!!
We thought it would take two, perhaps three days to complete the unpacking, but after three days we had only managed to unpack 50% of the boxes. Alan just about managed to find his work suits, the iron and ironing board before heading into the office to discuss his return to work later in October. So far we have unpacked over 100 boxes which are piled up everywhere together with about 20 boxes of packaging material. Many of the boxes seem to contain more packaging than stuff and we have around 20 bags and boxes of things for the charity shop so hopefully we will feel less cluttered soon.
By this point our year living on Stella seemed to be fast becoming a distant memory. But then something very strange happened. The weather forecast was showing several days of solid sunshine and warm weather and the news was talking about a record breaking late summer. So we quickly abandoned the unpacking and raced down to Lymington and Stella to revive our live-aboard lifestyle. From Wednesday 28 September for the next 5 days we enjoyed clear sunny warm days the likes of which you don't even get in a good summer. The only drawback was there was no wind so we couldn't venture too far, but we certainly weren't complaining!
Leaving the Solent for Studland Bay on a beautiful sunny day. Hardly a long passage but we were just happy to be back living aboard Stella for a few days.
No, we haven't muddled up the Caribbean photos! Alan puts his dive gear on to take a look under Stella whilst anchored in Studland Bay.
And just to prove he really did go in.....
Because there was no wind we decided to stay in Studland Bay and explore ashore. We went for a fantastic walk along the coast to the Old Harry cliffs which we sail past every time we enter the bay.
The white cliffs of the needles can just been seen in the distance to the right of Mary
Unfortunately when we returned from our walk we realised we had a made an embarrassing school boy error. We had forgotten about the tide and our dinghy was now a long way from the water.... L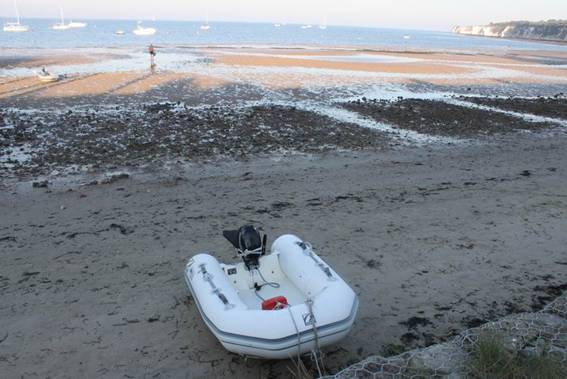 But luckily there was lovely pub just a few minutes away. ..
The following day James and Robin popped over from Lymington for a morning cup of tea...
They stayed for an hour and then 'popped' back to pick Henry up from school. You can do that when your boat does 30kts!
The beach at Studland Bay. Who would have thought this was the 1st day of October in the UK!
Anchored in Studland Bay in the evening light.
As the sun set James, Robin & Henry returned, complete with tasty provisions for dinner which we promptly all tucked into on Stella.
Sunrise in Studland Bay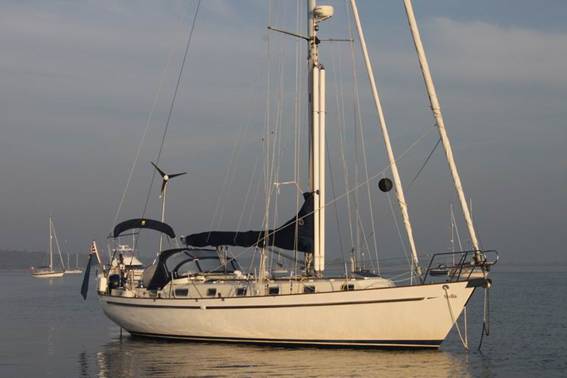 The following day we returned to the Solent. Some got back faster than others.......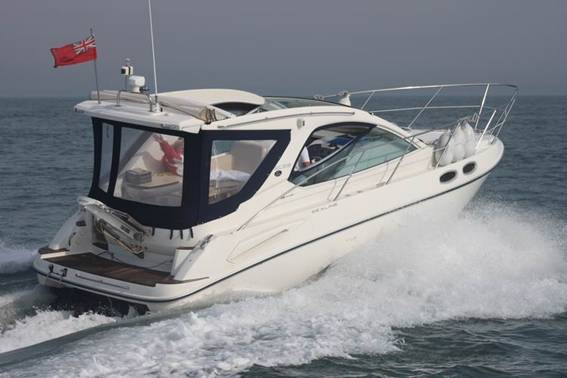 We picked up a mooring buoy at Yarmouth as our friends Tania and Richard were also out making the most of the sunny weather and had brought their boat over from Gosport. It seemed like every boat afloat was out for the weekend and Yarmouth was as busy as a bank holiday weekend. We got one of the last moorings and the marina was totally full but Tania and Richard shamelessly prostituted their daughters and dog by making them sit on the bow so the harbour master took pity on them and squeezed them in.
We had a lovely meal ashore with Tania & Richard and their two girls. The following day we enjoyed a light wind sail to Stokes Bay aided by a very strong favourable spring tide. The sun was still shining, there was not a cloud in the sky and it was yet another shorts and T-shirt day. Can anyone believe this is October!!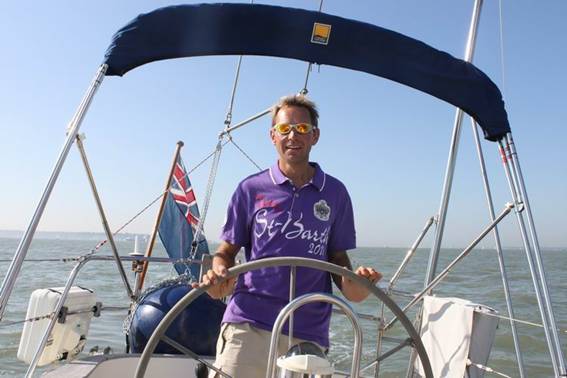 We anchored for lunch in Stokes Bay with Jamelia (Tania and Richard's boat)
Everyone except Mary and Jack (Tania and Richards new dog) went swimming....
At 1600h on Sunday we said goodbye to Jamelia and headed back west to Lymington. But on the way we decided we should continue to make the most of the weather and the luxury of not having to go to work on Monday so snuck into Newtown Creek and picked up one the last available visitor moorings.
After the sun set, and the tide dropped and dropped we discovered why these moorings were still available as the water went down to 1.3m. Stella settled into the mud with 30cm less water than she needs to float whilst we anxiously ate our dinner and wondered which of the many differing tide forecasts for Newtown Creek was correct. Fortunately she seemed quite happy and 45 minutes after low water she floated again, sheepishly being the last boat in the river to swing in line with the flood tide!
---