Photos From The ARC Build Up In Las Palmas

Stella
Alan & Mary Phypers
Wed 22 Dec 2010 14:10
Now we finally have wifi internet access (all be it very slow) we can upload some photos from the last 6 weeks.....
The boats dressed overall in the marina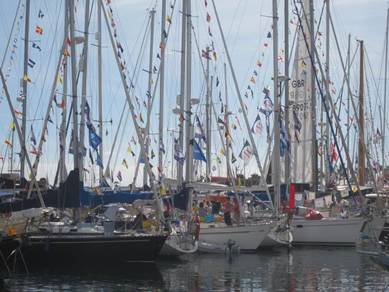 Dressesed as cardinal marks for the fancy dress party. The theme was 'The Sea' and we thought this was an original idea but four other boats also thought of it! Although we were the only ones with flashing lights!
Our neighbour dressed as our new airbreeze wind generator
Provisioning for the trip. We bought fresh fruit and vegetables from the market, washed and dried it all on deck and then put it into our fruit net or in a dark crate in the aft cabin. Most of it has lasted the 26 days!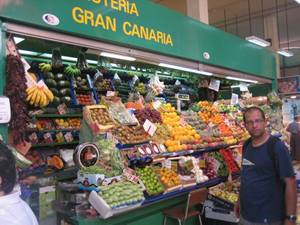 Erecting the new Air Breeze wind generator
Salt picture for the ARC and the flag parade
Pedros dinghy race
The first two boats home, one was a motor boat and the other a Swan 80
Safety demonstrations – how to right a life raft and a helicopter rescue
'R' Our pontoon party
The ARC office
Mary at one of the dos at the yacht club
Our last supper the night before departure in a posh restaurant
Toby & Charlie and R pontoon
A band and jugglers paraded up and down the pontoons on the morning of the start creating an amazing atmosphere
The crews all ready to go
---