Finally on the move

Stella
Alan & Mary Phypers
Wed 13 Oct 2010 11:26
41:11.006N 08:42.392W
Monday 11th and Tuesday 12th October 2010
We finally left Bayona at 0900h on Monday (11 October), in company with Betsy, the other Bowman 40 that was also waiting for the weather to improve. After a few hours of motoring we were rewarded with some proper down wind sailing and Stella scooted along nicely under poled out yankee and main in 20kts of northerly breeze. Proper sailing at last!!
Leaving Bayona in company with Betsy, a near identical Bowman 40
At last, some proper sailing.
En route visitor that took a liking to Toby!
It didn't last as the wind died in the late afternoon and we had to motor the last 3 hours into Leixoes. We arrived at Leixoes just after dark at 1930h and anchored in the designated anchorage. To say Leixoes is a dump is an understatement! It's a very busy commercial port with small and medium sized ships and fishing boats coming and going all the time. The water is thick with rubbish and the whole place stinks of fish, oil refineries and general yuck!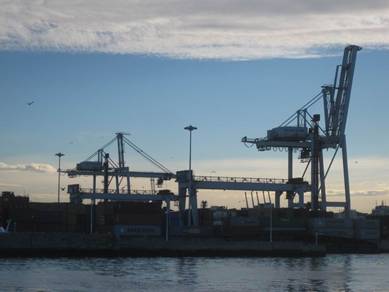 The anchorage in Leixoes is at least calm, but that is its only positive feature....
Alan dinghied ashore to pick up Mary, who had decided at the last minute to make a dash to Lisbon for a couple of days to see her sister Wendy who was there for a work conference. The next morning we awoke to the tuneful grinding of two digger dredgers which had moored about 100 yards from us earlier in the morning and were merrily dredging away. Alan dinghied ashore again to present the 'ships papers' at the marina office (the pilot book made clear this was mandatory even if anchoring) and confirmed that the small marina was equally as awful as the rest of the harbour, having got a plastic bag around the prop of the outboard! We pulled up the anchor (before the dredger did it for us) and hurriedly left at 0930h for Lisbon.
The morning view from our delightful anchorage, complete with dredger!
It's now Wednesday morning (13 October) and it's been another disappointing passage. There's been no wind since we left Leixoes so it's another marathon motoring session. The weather seems to be totally messed up at the moment and we suspect the good weather that the UK is apparently enjoying is pushing the grotty weather further south to our area. It looks like the winds are going to be very light for the rest of the week, so we are starting to consider going straight to the Canaries from the mainland and missing out Madeira. Either way, we are likely to be in Lisbon for the next few days, which isn't so bad!
Another 36 hours of motoring..... L but at least the sun is shining, it isn't raining and we are not in the office (-;
---