Lanzarote

Stella
Alan & Mary Phypers
Wed 27 Oct 2010 11:16
We said goodbye to Toby at 10am on Monday and then started to investigate the damage the freak wave had done the day before. Unfortunately it was worse than we thought and took all day to sort out. Both mattresses and all the bedding in the aft cabin were soaked through and the lockers underneath the berths had several inches of water in them so all of the stuff there had to be cleared out and washed. We also washed all the carpets as once they get salt water on they never dry properly. It was however a good chance for a spring clean and she is looking lovely again now.
Palm trees everywhere. At last we have 'arrived'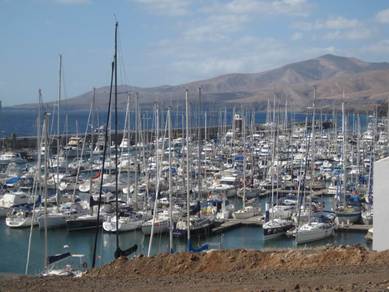 Puerto Calero Marina
During Mary's numerous trips to the launderette she befriended a fellow ARC participant Wendy who we invited round for beers with the rest of her boat. After a late pizza we then went back to their boat until 2am and had a really good night. They have just arrived having been stuck in Rabat (in Morocco) for 5 days so it seems the storm which held us up spread quite a long way south. Morocco has a similar coast to Portugal with shallow harbour entrances which are too dangerous in a large swell.
Today we had a nice walk along the cliff tops to Puerto Carman, a bigger and very touristy resort further north, where we had a nice lunch.
Puerto Carman
This afternoon we had another lovely downwind sail 10 miles down the coast to Marina Rubicon where tomorrow we are lifting out to antifoul the hull, a process which has to be done at least once a year to prevent growth.
Leaving Puerto Calero for Rubicon – Nice easy pontoons here!!
Our first proper taste of blue water sailing – sun out (hence the bimini up) and good strong warm breeze from behind. Magical!!!
Wandering around the marina we bumped into Indra, our fellow Bowman owners, so after a couple of beers with them we are back for an early night.
Below are some the photos from our crossing to the Canaries which we couldn't post over the satphone.
You would never believe the Atlantic Ocean could be so calm. We had 3 days of this! L
But the calm conditions did allow Alan to practice his baking.
No, this is not a 'photo shopped' picture – we just all leant over the bow and took a picture of our reflection in the water. It really was that glassy calm!
The dead calm allowed for some incredible dolphin pictures. The polarising filter gives the impression we were under the water......
The wind finally filled in on the 4th day which enabled us to try out our downwind rig – twin poled out yankees. This rig proved exceptionally stable, even when the wind increased to over 30kts in a large sea.
....and when you need to come onto a broad reach you just fly both headsails together in what we call the 'double glazed' rig!
Approaching Lanzarote
---