Antifouling in Lanzarote

Stella
Alan & Mary Phypers
Fri 29 Oct 2010 21:09
28:51.44N 13:48.95W
Wednesday 27th – Friday 29th October 2010
We hauled out at Marina Rubicon on Wednesday morning (27th October).
After 3 hard day's work Stella is now back in the water looking very smart with her new coat of antifouling. After pressure washing the hull, we 'wet and dried' all the flaking areas
Pressure washing the bottom whilst in the travel hoist
Sanding down the bottom with wet & dry sandpaper – not a fun task, but less unpleasant than in the cold UK.
We then painted her with antifouling paint (a special horrible paint that stops the weed and barnacles growing).
We primed the flaking areas before painting with antifouling
After priming the first side Mary managed to get quite a lot on her hands as it dripped down the brush, partly as the old half full tin had gone a bit thick. We didn't realise we needed special antifouling thinners so when she tried to wash it off it simply spread all over her hands like thick silver nail varnish. Luckily she caught one of the guys from the boat yard just before he went home and he gave her a tin of thinners and some latex gloves, otherwise I don't know what we would have done. By the time we got to the second side we were getting much better though. Luckily the boat yard had very good showers as we both still managed to get covered in blue spots of paint which still hasn't all come off!
Putting on the masking tape ready for painting
The previous owners (Gill & Mike) kept every part of Stella in sparkling condition, including the propeller which you can't normally see. Alan tries to restore it to it forms glory.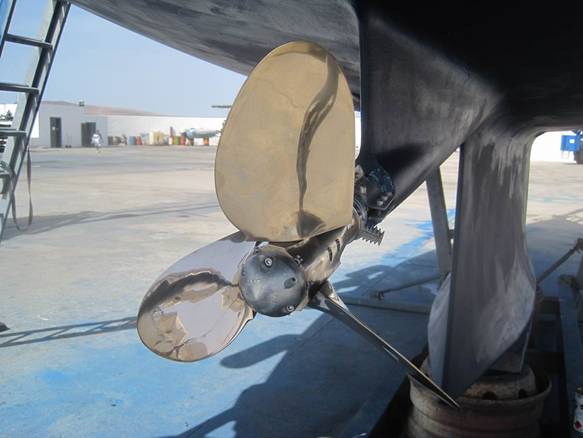 After half a day of cleaning and polishing the end result.......
Nearly ready for launch
Mary touching up the areas where the cradle was resting whilst Stella hangs in the strops from the travel hoist just before launching.
Painting the underneath of the keel - a rather disconcerting task which provides an unusual view of Stella!
Marina Rubicon was great a place to do the work. We had loads of room around the boat and gantry's to work from whilst painting and polishing. There were even posh showers we could use whilst living aboard.
Compared to our usual relaxed lifestyle the last few days have been very hard work, but Stella is looking great with her 'new bottom' which should see us through the next year. We plan to spend the next couple of days relaxing and will possibly hire a car for a day to explore Lanzarote. We then want to find a peaceful anchorage off Fuerteventura for a few nights before making for Las Palmas and the big build up to the ARC.
---