Martinique

Stella
Alan & Mary Phypers
Thu 10 Feb 2011 16:49
14:27.915N 060:52.107W
28th January – 5th February 2011
We had another rough sail from St Lucia with big seas and strong winds on the nose but once in Martinique it was very sheltered. We anchored in Marin, the main yachting centre on the island which was very busy and we struggled to find a space to anchor with hundreds of boats being there. Martinique is still part of France so is much wealthier than the other islands and feels more like Brittany than the Caribbean.
That also means lots of French food, chandleries and dinghies!!!!! We wandered around all the dinghy shops, they had all sold out of small Caribes but we did find an 8.5 ft Zodiac RIB for sale. Being France all the shops shut at 12.00 on Saturday for the weekend so we didn't have time to actually buy one and had two days to think about it. A Zodiac is not ideal as it is made in France so more expensive and not designed to withstand the sun like the local makes. Also being part of the EU we cannot buy 2 stroke engines so had to get a 4 stroke which is heavier and more expensive. Anyway after much debate we decided to go for it and on Monday morning we finally bought our new dinghy. Alan has always wanted a RIB so that he can get on the plane and go really fast. We plumped for a 6HP engine in the end as any more would be too heavy to lift. It planes nicely at 15 knots with one of us but is not quite powerful enough to get on the plane with two. It is however a lot more stable and we can go much further and don't get nearly so wet. We will also be able to carry 4 people when we have guests.
Taking delivery of the new Zodiac RIB – as exciting as getting a new car! (left) and our old small Lodestar dinghy (right).
Alan in his element speeding along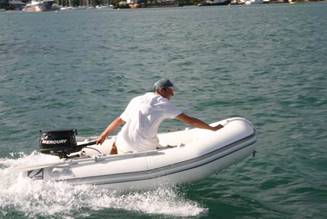 Even Mary liked it!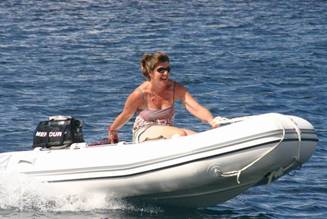 Whilst the shops were shut we ancored in St Annes around the corner which was lovely and had a very trendy bar full of very trendy people, not something you really get in the rest of the Caribbean.
It's not all lounging in the sun with a beer – boat jobs still need doing. Alan fixes a hot water pipe which was leaking again.
From Marin we headed north to Anse D'Arlet in company with Bavarian Spirit and then on to Anse Noir where we did the most amazing snorkelling. We were surrounded by tens, possibly hundreds of thousands of yellow goatfish, it was like being in a David Attenborough film. We also swam with a lovely turtle for ages.
Anse D'Arlet (left) and the very picturesque Anse Noir (right)
Gerry and Margaret from Bavarian Spirit
We then headed up to St Pierre, a really interesting town which was the capital until 1902 when it and all 30,000 inhabitants were wiped out by the volcano.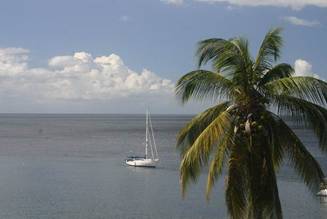 Taking the shopping back to the dinghy dock – sure beats Sainsbury's car park! We stocked up on French cheese and wine (Left).
Stella at anchor at St Pierre (right)
We did a great dive here, once we got used to the French way of doing things which is much more laid back! In my best French I said I would have a bigger tank without realising I had to carry it to the beach and then swim to the boat with it. No nice Caribbean guys to do it for you or to help you onto the boat. They also pack 15 people on a small rib, great fun though.
---