Cornwall

Stella
Alan & Mary Phypers
Mon 22 Aug 2011 22:25
50:10.7N 05:03.1W
4th August - 18th August
We spent a lovely 2 weeks in Cornwall mainly in Falmouth but also visiting Helford and Fowey rivers.  This really is a beautiful part of the world.  We arrived in Mylor in the Falmouth estuary to be welcomed by Gerry our friend from the ARC on Bavarian Spirit.  We liked it so much we stayed there for 3 days.  
Having sailed 12,000 miles since we left the UK we have put a lot of wear and tear on the gooseneck which attaches the boom to the mast.  It had started to grind so badly metal filings were all over the deck.  We had thought this was a serious and expensive issue but thanks to a bit of advice from Gerry we replaced part of the gooseneck.  Amazingly we managed to buy the part in Mylor and it only £16.99!  It did, however take Alan all day to replace.  We'll now make sure we carry at least two spares.
We were supposed to be meeting our friends James & Robin in Salcombe, but due to the gooseneck repairs we were delayed and weren't going to make it.  At 4pm they then phoned back and said they would come to Falmouth and would be there in 2 hours!.  The same trip would take us 12 hours.   James has a new motor boat, 'Carefree', which cruises at 30 knots!  We were not too sure about it at first but have to admit it is certainly practical.  Not only does it get you to your destination quickly, it is very spacious with a covered cockpit meaning we could still have our barbeque even in the rain.
We should add that James's 'other boat' is a Nordic Folkboat, which he races very competitively in Lymington and hence in this instance it's 'OK' for us yachties to mix with a motorboat!  J
We cruised up the River Fal in Carefree where many large ships are moored.  We did the same thing a year ago at the start of our adventure and some of the ships were still there a year on.
Alan even posed on the foredeck of carefree, although he doesn't quite have the look of the leggy blondes that all motor boat brochures imply come with the boat!
After a couple of nights in Mylor with James and Robin we anchored in the mouth of the Helford River where we found a lovely beach for Henry to play on.
After James & Robin left we went to Fowey for 3 days which was also lovely. 
As well as visiting the lovely shops (Mary thought they were lovely) we did some walks along the coastal footpaths east and west of Fowey.
We then headed back to Falmouth to meet up with Alan's brother and family who had two days previously moved to Truro from Winchester.   Barrie and his two boys, Oscar and Max stayed for a much anticipated 'sleep over' on Stella.  We went back to the same anchorage in the mouth the Helford River that we had enjoyed the previous week with James, Robin and Henry.
The boys didn't stop grinning the whole time, especially when on dinghy safaris in the new 'super fast' RIB, which they found to be a significant improvement on the old dinghy!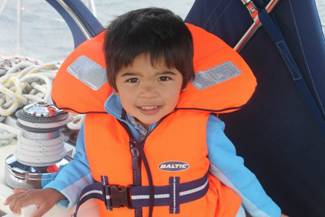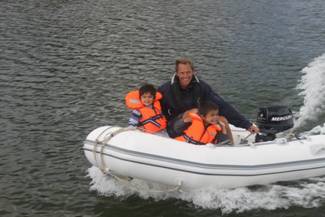 Barrie and family have initially rented a house whilst they look for a house to buy.   This gave us the opportunity for a spot of house hunting, although Barrie seemed to think we had misjudged their budget.
After the boys left on Wednesday morning we went for a quick tour of the Rustler Bowman 'factory' at Penryn.  We have absolutely no intention of replacing Stella but whilst we were in the area we cheekily invited ourselves to see how 'proper boats' are built.  Adrian Jones, one of the co owners of Rustler was more than happy to show us around.  'Factory' is really the wrong word to describe the facility as each boat is very much hand crafted the traditional way.  The building resembled an excellent carpentry shop with surprisingly little automation.  You can't beat the smell of fibre glass resin and freshly worked teak!!
We spent our final night in Cornwall moored off St Mawes on the east side of the Falmouth estuary.  It was a beautiful spot and a quick run ashore for a 'sun downer' (rum punch having long been replaced by a pint of 'Doombar') confirmed that St Mawes must be one of the poshest places in Cornwall!  We even saw George Osborne who was staying in a holiday cottage!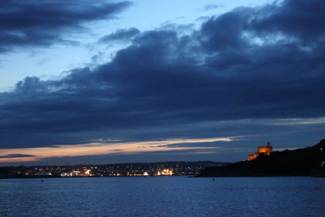 ---