1st vistors

Stella
Alan & Mary Phypers
Tue 1 Feb 2011 11:34
13:00.16N 61:14.55W
15th January – 21st January 2011
We made it back to Bequia in time to pick up Sally & Brian, Alan's mum and step dad and anchored in the same place as before. Despite the now usual torrential downpour which greeted them and soaked their bags they seemed pleased to be here.
We headed back to Tobago Cays but it was a bit rough for Sally & Brian so we retreated to Mayrou and Saline Bay.
The next day we made it into the picture postcard Saltwhistle Bay where we had a lovely day if expensive. Whilst taking the dinghy ashore in the evening we managed to tip it over, Sally and Mary ended up in the water although somehow Alan stayed dry! Unfortunately the rucksack with both cameras went floating off and when retrieved included two now defunct cameras and a lot of soggy money. Sally had lost her only pair of glasses but amazingly a snorkelling expedition in the morning managed to recover them unharmed. Not wanting to be left out on the next trip Brian managed to fall in on the beach and get covered in sand.
Saltwhistle Bay
The next day we tried again to go to Tobago Cays but they were still very rough so we anchored in the more sheltered but still beautiful channel between the islands.
This seemed like an idyllic anchorage until an out of control French charter boat managed to plough into us at speed whilst attempting to turn into the strong winds in a narrow space. They hit us side on with what felt like a massive force but fortunately we have a strong boat and only scratched the sides but it is still a pain. Amazingly having hit us they then attempted to anchor again and hit two more boats as the whole anchorage looked on in fear and amazement.
Fortunately with the help of the park rangers they managed to anchor just in the nick of time before the next 35 knot squall hit.
We then headed off for the famous celebrity island of Mustique. It is a private island divided into about 200 plots each having a massive posh villa. That evening we ate, drank and danced in Basils bar with a few other boats as it was Graham from Nakesa's birthday. It was very expensive but great fun and worth it as a one off.
In the morning we hired a buggy and toured the island looking at the many manicured gardens, deserted beaches and posh villas.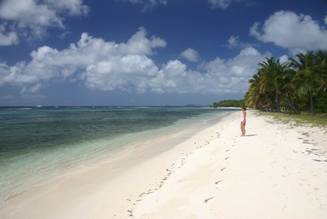 The village shop sold Liz Hurley tops for $250 but I just couldn't decide which one to get so settled for a lettuce!
.
---