Oeiras

Stella
Alan & Mary Phypers
Mon 18 Oct 2010 11:17
38:40.535N  09:19.092W
Friday 14th October – Sunday 17th October 2010
We've had a lovely 3 days in Oeiras (which we think is pronounced ooer-shhh).  It's a relatively new marina about 6 miles west of Lisbon, with great beaches either side.  There's a very tempting parade of new bars and restaurants overlooking the marina which we quickly discovered were perfect for early morning coffee, lunch and sundowners!  It's only downside was that it didn't have wifi.
Oeiras Marina – our favourite marina so far!
We spent Thursday doing  boat chores and exploring the local area.  Toby introduced us to white port as a new aperitif and after much controlled testing we're happy to report it is hangover free!!!  J
On Friday we took the train into Lisbon and explored the city.  It's a great city and certainly worth more than a day's visit.  Having done the castle we decided the historic tram tour was too expensive at €18 each, so jumped on a random tram for €1 to see where we ended up.  After witnessing tram rage between the tram driver and another vehicle , we were deposited near the suspension bridge, from where we took the train back to Oeiras.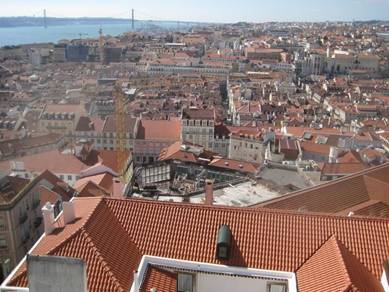 We spent a pleasant morning on Saturday indulging in the local cafe culture before fuelling the boat and making a trip to the supermarket.  In the late afternoon we took the train back into Lisbon to Belem and walked along the river before having dinner in Belem.
Evening walking along the river in Belem
Lisbon is famous, amongst other things, for custard tarts!  So we took it upon ourselves to do more controlled sampling, and have managed to sample custard tarts from 5 different shops.  The panel has voted the cafe in Oeiras marina as the best for all round tart for density, taste,  pastry consistency and of course appearance!
Award winning custard tarts!
We're now on the move again sailing slowly to Lagos.  The wind is still forecast to be very light but so far we've managed to sail most of the way.  We even had the spinnaker up yesterday afternoon (Sunday), but now we've rounded the corner at Cabo De Sao Vicente the wind is on the nose, so the engine is back on.
Lagos is the last logical stopping off point on the main land before heading to the Canaries so we are hoping to meet more ARC boats when we arrive.  The current plan is to stop for a couple of days and then sail direct to Lanzarote.
---