Antigua Cruising

Stella
Alan & Mary Phypers
Fri 18 Mar 2011 22:18
17:00.70N 061:46.20W
24th February to 4th March
On 24th February it was Alan's 40th birthday which we celebrated with a lovely meal in Cloggy's the restaurant beneath the yacht club. James and Robin and their 22 month old son Henry arrived the day before and we also invited some other friends Mike & Jean and Gerry and Margaret who were in Antigua at the time. James and Robin have come out for 5 weeks with the first week in a villa in Antigua, they have then chartered a yacht and are sailing with us up to the BVIs.
Whilst moored up at the yacht club it was finally dry enough for us to tackle the varnishing. Antigua reputedly has some of the best varnishers in the world but when we were told it would be $800 USD just to do our cap rail we decided to do it ourselves. Clem who had been recommended to us by one of the RORC guys came past and was so upset at the way we were doing it that he agreed to help us so we paid $100 USD for a day's help and an expert varnishing lesson. They are now not quite super yacht standard as that would have taken 3 men 3 days but they look pretty good – Gill you would be proud of us!
Clem also did us another favour and agreed to store some of our stuff until we return to Antigua in April. We therefore gave him our old dinghy, the spare head sail and a few other bits making it much easier to empty the aft cabin which is otherwise full of stuff.
Sorry no photos as still no camera.
On 25th February Alan's father and his partner Pauline arrived for 2 weeks on Stella. Fortunately he came bearing cameras so the photos can now resume. We bought a new SLR and Alan's mum and brother kindly bought us a new pocket camera and waterproof case so that we can take it diving which is great.
We took them to Nelsons Dockyard and English Harbour which is still beautiful
And for a traditional Caribbean jump up at Shirley Heights
We then headed to Mamora Bay where James & Robin are staying for a couple of nights and another 40th birthday meal for Alan
Relaxing on their balcony
Alans birthday cake courtesy of Gordon & Pauline
Gordon & Pauline on the sail around to western Antigua
Crystal clear waters off Crab Hill Bay
James & Robin arriving on Platon in Dickenson Bay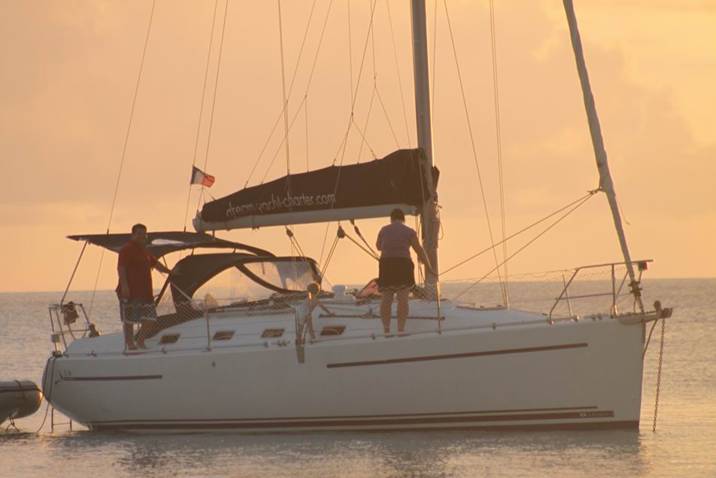 Another sunset somewhere
We spent a few days cruising around the coast whilst James and Robin caught up. Unfortunately there was no decent snorkelling here so we couldn't try out the underwater camera.
---