Antigua - RORC Caribean 600

Stella
Alan & Mary Phypers
Fri 18 Mar 2011 22:17
17:00.70N 061:46.20W
17th February to 25th February
We arrived in Antigua a day early before Alan was due to report for duty for the Royal Ocean Racing Clubs (RORC) Caribbean 600 race and had a lovely night, our last quiet night for a while, anchored off Carlisle Bay. The sky cleared and the Caribbean weather finally arrived. Antigua was a lot cooler and drier than the southern islands which was lovely.
Carlisle Bay
The next day we sailed around to Falmouth Harbour where we were greeted by Ian from RORC and allocated our birth for the week right outside Antigua Yacht Club – not bad! We did however move for the final party as the stage and band were then only 5ft from our boat.
Alan has been involved with RORC for over 20 years since he helped out with the Fastnet finish line in Plymouth so decided this year he would offer our help in Antigua. This is the third year of the Caribbean 600 which sees some of the world's fastest yachts racing 600 miles around St Martin to the north and Guadeloupe to the south.
In the end there wasn't that much for us to do for the race but we still ate and drank with the RORC team every night which was great fun, hobnobbed a little bit with the super yachts and of course attended all the parties. Peter Hopps from LCSC was skippering one of the smaller boats, a First 40.7 and some other LCSC members were there so it was good to catch up with them. It was also really nice after so much moving around to be in the same place for a week and get to know lots of people and to feel part of a place.
Race Briefing in the Yacht Club
Yachts Moored in the Yacht Club Marina
Rambler the winning boat finishing in 1 day and 16hrs and Leopard, last years winner who was second over the line.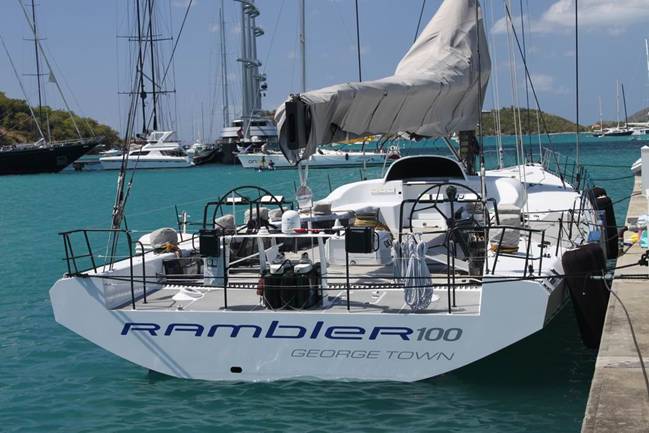 View from our mooring
Stella was the official gate boat so on the way to the start line all the boats had to sail past us so we could count all the crew and confirm they all had life jackets
During this the shutter on our second camera, the SLR, stopped working so we had no camera having drowned the pocket camera in Mayrou. Sadly this meant we got no photos of the start but it was very spectacular. We also helped with the finish line on top of the hill and greeted the crews as they arrived back in the marina. All in all it was great fun and made a welcome change to our cruiser lifestyle.
---