Dominica

Stella
Alan & Mary Phypers
Thu 10 Feb 2011 16:50
15:34.917N 061:27.831W
5th February – 9th February
Dominica is probably the most Caribbean of the islands we have visited so far.  It has very little tourism so is still very natural and really nice and friendly.  There are only really two places to anchor, the capital which no one recommends and Portsmouth which is a lovely big bay (Prince Rupert Bay) with a small town and a few great beach bars.
Downtown Portsmouth (right) and a typical supermarket selling lots of not much (left)  
The notice outside the cinema which also doubled as the hurricane shelter (left) and the chandlers which did have the engine bit we needed, they just took it from another old engine!
Rusty old ships washed up on the shore during the hurricane season
The beach and the beach bars where everyone is friendly, drinks are all 5 EC (£1.20) and the food is good and cheap.  So far the best food we have had has been in the cheapest places.
We did a bit of hiking whilst there, a couple more dives and a boat trip up the indian river.  14 of us squeezed into this little boat!  Great tree roots, birds and a boa constrictor (top right)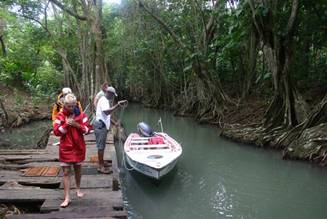 The anchorage from the top of the hill and Alan still finding any excuse to go off in the new rib.
It was also very rainy but you do get some great rainbows
We always take our photos when it is sunny so thought we should include a rainy one!  You cant see the wind but it is still very squally and constantly gusts from 3 to 30 knots in seconds.
The other downside of the rain is it takes ages to get things dry so we started hanging our wetsuits under the sprayhood.  We decided these then act as 'scarecrows' to deter potenial theifs as particularly at night it looks like someone is there, well they keep fooling us anyway!
STOP PRESS:
We have just heard but not seen it yet that we are in the February Yachting Monthly!  They interviewed us in Las Palmas but we never thought we would make the cut!
---