Terceira

Stella
Alan & Mary Phypers
Sun 10 Jul 2011 20:28
38:39N 27:13W
28th June to 7th July 2011
Well, we finally left Horta after 2 weeks on Tuesday 28th June having had a lovely relaxing time and met many more people. Horta is a great hub in the middle of the Atlantic and everyone in the marina by default has just done an ocean passage so you immediately have lots in common.
We continued to make the most of our berth and gave Stella a jolly good clean so she is looking almost as good as new again. By night we continued to socialise with all of our new Ocean Cruising Club (OCC) friends.
Typically having had southerlies for most of our stay the wind turned easterly as we left making our departure tricky and giving us wind on the nose for the entire trip to Sao Jorge & Terceira. As the marina was crowded with rafted yachts and we were being blown onto our berth we enlisted the help of several other boats and with some very long ropes managed to get out safely. We then had a lovely sail to Sao Jorge where we anchored for the night before an early start the next day to arrive in Terceira before dark. It was a beat all the way but the sun was out so, with spectacular scenery between Pico and Sao Jorge and the first relatively flat seas we have had in a long time, it was gorgeous. Still no whales though!!!! Everyone else has seen lots but they don't seem to like us. The depth sounder did keep reporting depths of only 20 meters or less in water well over 1,000m, so maybe the whales were lurking underneath us, but we didn't see a thing!
Anchored in Sao Jorge and Arrival in Terceira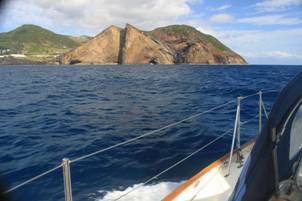 We arrived in Angra do Heroismo in Terceira at about 6pm. When we arrived there was a big surge in the marina so the pontoons and boats were moving all over the place. We had 12 moorings lines out but we still had a bumpy and noisy night. The following morning we were allocated a more sheltered berth with great views of the town.
Angra is a beautiful old town full of lovely old churches and cobbled streets. It also has lots of great outdoor bars which stay open late into the night.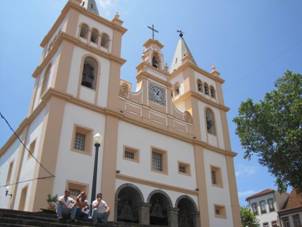 Angra is overlooked by Monte Brasil which we walked up twice getting spectacular views over the bay.
View of the marina and one of the many parks with children's playgrounds and fitness equipment for adults.
Terceira is mad on 'Tourada da Corda'; bullfighting with a rope! This is where a bull tied to a long rope is released into the village. 10 men (dressed in white smocks and black hats) try their best to keep the bull from going the wrong way, although the bull seems to have control most of the time! Local men then try to touch the bull between the horns, which is considerably harder and more dangerous than it sounds!
There are several bull fights going on every night around the island, so we went to one near Angra. We were told that we should ask the locals if we could stand on their balconies to watch. We were a bit unsure of this but soon realised why we had been given this advice. We calmly strolled up to the village to find a long rope lying in the road, 10 men in black hats standing around and everyone else securely standing on the balconies or behind barricades. When we were told the bull was about to be released we quickly asked at the first house we came to if we could stand on their balcony. Luckily they obliged as 30 seconds later the bull was running up the street!!
Everyone in the village hiding behind their walls and releasing the bull from its box
The men holding onto the rope
Men taking their chances with the bull. Note no women - they obviously have a lot more sense!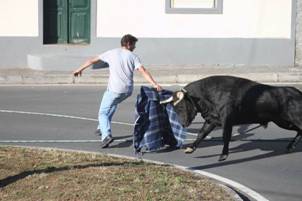 It might sound cruel but apparently the bulls are rarely hurt. It certainly seemed that the bull was in control and fared much better than the local men. One person was hurt and had to be taken off in an ambulance. There are lots of videos in the shops showing people being tossed into the air by the bull, sometimes looking hurt but getting up and taking another drag on their intact cigarette! I suspect they are hurt but are trying to look cool.
When the bull is released one firework is set off to signal the danger and when it is recaptured two are set off. Note the strict health and safety procedures in the photo below as the man lights the firework with his cigarette and lets it off in his hand!
Joe and Sindy who also came with us.
We hired a car for the day and drove around the island. The hydrangeas which line the hedgerows are now coming into bloom.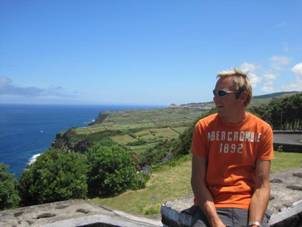 In the centre of the island there are amazing caves where massive domes have been formed by erupting lava which cannot escape through the thick rock above. Sadly the photos don't do it justice but it was amazing. We also walked along lava tunnels formed when a flow of lava dries on the outside but the centre continues to flow eventually leaving a tunnel behind.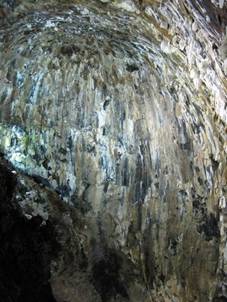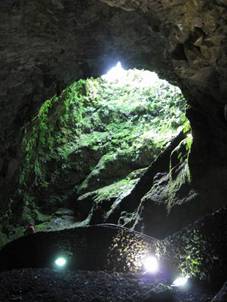 Terceira was a great place and we ended up staying for 8 nights. Quite a few OCC boats we met in Horta were there so it was very sociable. We are now in San Miguel enjoying the festivities of Divino Espirito Santo which seems to involve lots of live bands, processions and free food! More about this in the next blog or we will never get this sent!
We have finally given notice on our house for 12th September when we will have to return to London and face the real world again. In the mean time we will stay here for about a week as we wait for suitable weather to blow us safely back to the UK. Weather permitting it should take about 9 days to get to The Isles of Scilly from where we will slowly make our way back to Lymington via Devon and Cornwall. If we get strong northerlies we may make landfall in Spain rather than beat back but we'll have to see.
The prevailing winds should be SW but given we have had exactly the opposite of what is normal for the whole trip who knows!
---