The adventure has started!

Stella
Alan & Mary Phypers
Sun 15 Aug 2010 21:36
50:38.713N 01:56.325w
The adventure has finally started. Stella departed from her berth at Lymington Yacht Haven dressed overall at 1430h today! We were treated to a lovely 12kt beam reach to Studland Bay, where we are now enjoying our first night at anchor.
The last week has been hectic with the rigging being replaced at the start of the week and then the never ending job of stowing everything. However it's been so nice to have had so many visitors to wish us well.
The tides are not in our favour for heading west this week, which meant we couldn't leave until 1400h today, hence we've only made it to Studland bay. However it's a lovely spot for our first night and we had what I hope is our first of many great sunsets. Weather permitting we hope to make it to Dartmouth in the next couple of days.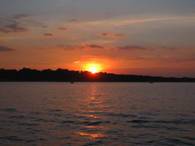 Our first sunset in Studland Bay
After all the preparations, both at home and on the boat it's a great feeling to be finally on our way and Stella is happiest when she's at sea!
---