British Virgin Islands

Stella
Alan & Mary Phypers
Thu 28 Apr 2011 18:56
18:24.8N 064:36.2W
20th March to 7th April 2011
The BVIs are very beautiful, lots of small islands only a few hours sail apart with a relatively sheltered channel in between. Unfortunately this means they are also very touristy compared to the rest of the Caribbean and full of American charter boats. We were also there over spring break which meant it was very busy. Most anchorages were full of mooring buoys which often filled up by mid day and further out it was too deep to anchor which was not ideal. It was also very expensive. Overall although we had a lovely time we prefer the more relaxed atmosphere of the rest of the Caribbean.
Iain and Fiona joined us for two weeks and James and Robin were there on their charter yacht Platon for the first week so it was very sociable. Iain & Fiona's first announcement was that they have just bought a Sadler 34 and hope to sail her across the Atlantic next year so they were very keen to learn all about our trip, particularly boat bits and maintenance so we were in our element. They even helped us sort out the loo. We spent a 'rewarding' day replacing the old pipes which were lined with a thick layer of lime scale reducing their diameter by about half so no wonder the toilet was blocking!
We had a wonderful sail from Anguilla to the BVIs making 7.5 knots with a full moon and the wind on the beam, unfortunately this meant we arrived at 4am in the morning when it was dark! We anchored in Spanish Town which was incredibly rolly so at first light decided to head north but that was too rough so after about 10 changes of mind ended up in the marina in Road Harbour, the capital of Tortola, which whilst not the most exciting of places did ,mean we could get the washing done and tidy the boat before Iain and Fiona arrived. After a windy start we then had two weeks of beautiful weather.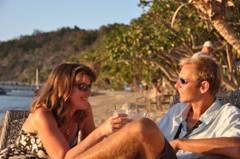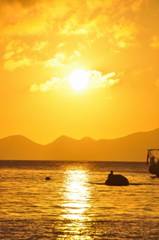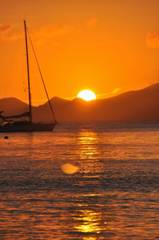 Anegada 14 miles north of the main BVIs which was more peaceful with beautiful unspoilt beaches, great bars and sharks!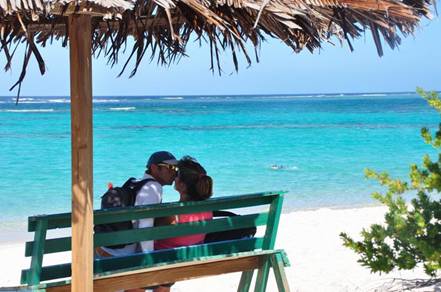 Bitter End Yacht Club and Saba Rock
Fiona relaxing on Stella
Iain discovers the joy of planing in the rib
The Baths on Virgin Gorda were stunning particularly after all of the cruise ship passengers had gone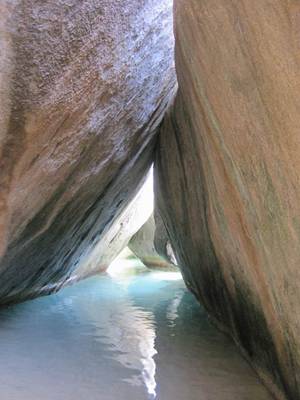 A rare photo of a turtle, we see them all the time but they are very difficult to catch on camera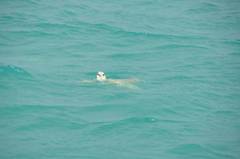 We made full use of our Cobb barbeque
The snorkelling was very good and we also hired dive gear so we could dive on our own. We had four great dives on the wreck of the Rhone which sunk in 1867 and in wreck ally where 5 scuppered ships lay in a row. The dives were quite deep and Alan was convinced he had the bends but I think he was just tired.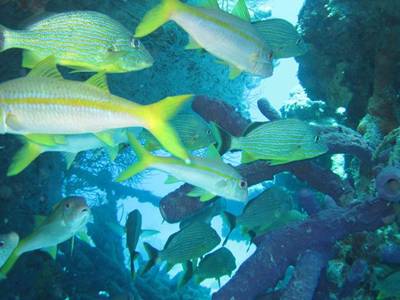 We did see a massive 4ft Grouper on the first wreck alley dive but we forgot to take the camera. On the second dive it swam off and hid under the deeper wreck so Mary naughtily swam down to 80ft to see it.
A Trunk Fish - One of Mary's favourite fish.
Barracuda under our keel
White Spotted Filefish
James in the Treasure Island Caves
Whilst in the BVIs we witnessed two unfortunate anchoring incidents. In Anegada a charter boat dragged their anchor and caught the anchor of another boat, a J46, around their rudder. It was very shallow, we were in 1.7m so everyone's chains would be at risk. They were scared to turn on their engine in case the anchor chain was around their prop so decided to put up their sails to try to escape. Unfortunately this did not work and they ended up sailing through the crowded anchorage dragging the J46 with them and hitting several boats on the way. This went on for a good hour as many of the owners were ashore including the J46 who had to be dinghied out to help. Amazingly no serious damage was done.
The second incident was more serious. We arrived in Spanish Town and noticed two masts sticking up above the reef. An American hoping to sell his boat to a German guy had taken her off the hard for a test sail and then left her on a mooring buoy whislt he returned home, having asked the German to keep an eye on her. The mooring had no pick up so he had tied on with a single line. The wind picked up in the night, the line chafed through, she ended up on the rocks, water got in through the rudder stock and she sank! Amazingly however a salvage boat was called, they inserted inflatables under her hull and within a few hours she was being towed back into harbour. The outside looked remarkably OK but I dread to think what she was like down below.
---