Cedeira

Stella
Alan & Mary Phypers
Fri 17 Sep 2010 11:39
43:39.38N 08:03.89W
Thursday 16 September 2010
In contrast to the previous night, Cedeira was a much better anchorage. The little harbour had an impressive entrance in between high cliffs. Once inside it was very sheltered with trees along one side and was a different world to the rugged coast outside.
Happy to be leaving Espasante, even if it was early in the morning
We had a lovely sail to Cedeira, making a big dog leg off Cabo Ortegal to keep the wind on the quarter and to extend our sailing. We arrived at 1500h with Aremiti an hour ahead of us, having taken a more inshore route. Having left Espasante at 0930h, which is much earlier than was usually leave, it was nice to have some time at anchor before the evening. Of course Alan filled this with a long overdue dinghy safari. (Perhaps there are some advantages to an uncomfortable anchorage after all).
Entering Cedeira; an impressive entrance
We happily reciprocated drinks with Aremiti who joined us for a sun downer, before settling down for a nice, peaceful, motionless night.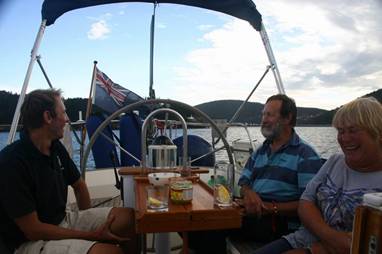 Chris & Julia from Aremiti
Cedeira definitely gets our vote as a nice anchorage!
.... a much more peaceful night.
---