Nevis & St Kitts

Stella
Alan & Mary Phypers
Fri 18 Mar 2011 22:23
17:08.88N 062:37.86W
4th March to 10th March
Nevis
Having had very strong winds in Antigua when we wanted calm typically the wind died the day we had a long day sail to Nevis but at least the wind was behind us so we sailed most of the way and picked up a mooring off Charlestown the capital. 
Gordon on the trip over addicted to The Girl With The Dragon Tattoo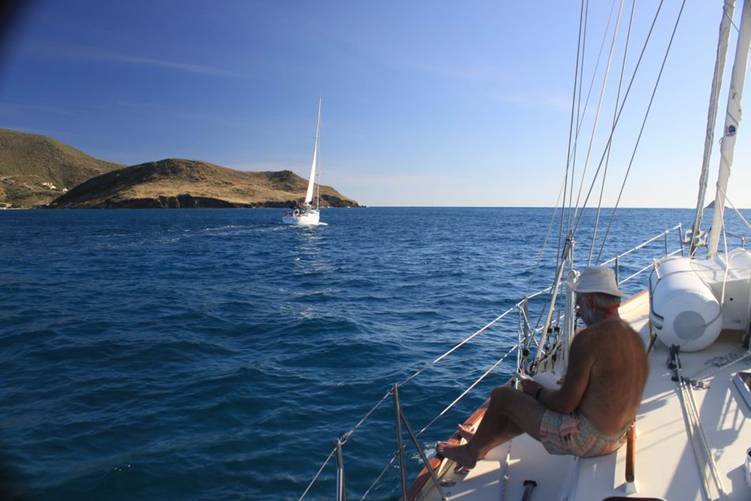 The following morning we ventured into town for what turned out to be one of our longest customs check in procedures yet taking about 2 ½ hours.  It was then straight off on an island tour which was very interesting.  Nevis is not very developed compared to some of the other islands but does have some lovely resort hotels in the old plantation houses all of which seem to have a connection with Fanny Nisbet, an islander who married Nelson.
An amusing road sign
The remains of an old sugar refinery.  It is no longer economical for them to grow sugar so they have turned to tourism
A monkey in a tree
Sunshine beach bar with Gordon & Pauline
James attempting to kite surf but there was not enough wind to get him up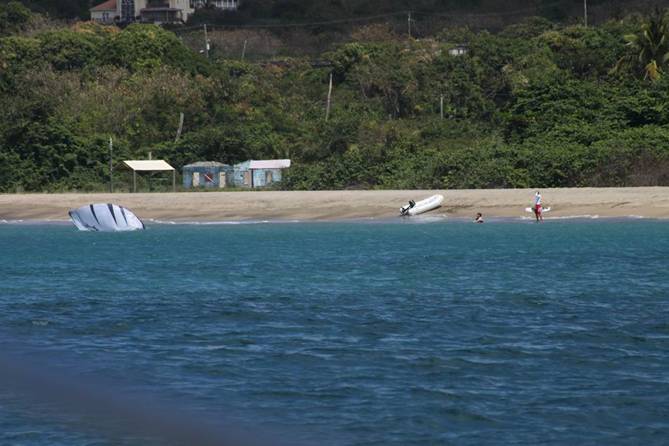 So Alan to the rescue
St Kitts
Nevis had a few good beach bars but in St Kitts there was not much on the leeward side so it was a little disappointing.  There was some snorkelling to be had but still not as good as we have had further south.  We also need to practice our underwater photography so that we don't only have pictures of fish swimming away from us!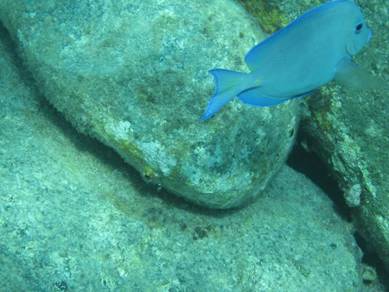 Our anchor chain caught on an old cannon! and Stella's bottom in need of a scrub
BBQ on Platon & James diving through his unusual keel with a hole in
Trying to get Henry swimming but he wasn't impressed so the girls took him ashore for a rum punch
Our final day, Marys birthday was less fun, the loo became blocked so we had to resort to 'bucket and chuck it'.  We tried to get into the marina in Basseterre the capital but it was full.  We spent a couple of hours waiting for immigration and customs and checked out the town which was an awful cruise ship terminal full of very naff shops selling tacky St Kitts souvenirs.
So we sailed back to our previous anchorage and Gordon and Pauline kindly agreed to babysit so we could get a taxi to the other side for a nice meal out for Marys birthday.
We apologise  for the 'radio silence' on the blog front – we've been a bit busy with 'events' and guests.  We've got a short break before Iain and Fiona join us on Sunday in the BVIs, which is hopefully enough time for us to complete the 4th instalment tomorrow.  Watch this space...............
---