Terra Firma

Stella
Alan & Mary Phypers
Wed 1 Sep 2010 09:08
47:29.246N 03:05.961W
Tuesday 31 August 2010
It was still very choppy when we awoke in the morning although we were treated to another lovely sunrise. We both had a strong desire to leave our very uncomfortable visitors mooring for something a little less stressful. But as is always the case, the wind Gods knew we wanted to head SE, so served up a nice 20kt SE breeze.
Sunrise in a very choppy Sauzon
Having had two nights 'at anchor', the last of which hadn't been much fun, Mary understandably decided she wanted a run ashore and to spend the night on 'Terra Flatter' (ie in a Marina), so we motor sailed to Port Haliguen on the Quiberon Peninsula. We arrived in the mid afternoon rush hour and had to wait 30 minutes for a visitors space. The very helpful harbourmaster kindly created a nice big space for us, only for it to be nabbed by a small French boat whilst we were swapping our fenders over! Fortunately he found us another space in the residents marina.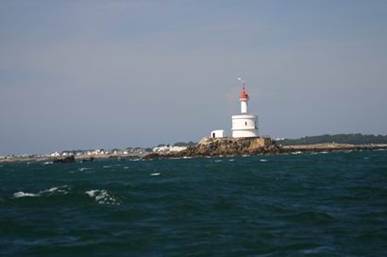 Rounding La Teignouse on our way to Haliguen
It was a bit frustrating to be heading in the wrong direction, but all other options would have meant a long slog directly to windward. We are, however, a cruising boat and a true cruising sailor never goes to windward! If only...........
---