Isles of Scilly Photos

Stella
Alan & Mary Phypers
Sat 6 Aug 2011 20:03
26th July to 4th August 2011
We had a fantastic 8 days in the Isles of Scilly with light winds and several sunny days.
We stayed on a mooring in St Mary's for the first four nights and on Wednesday took the dinghy over to Samson, had lunch on the beach and walked around the island. It was beautiful with clear blue seas and it felt like we were back in the Caribbean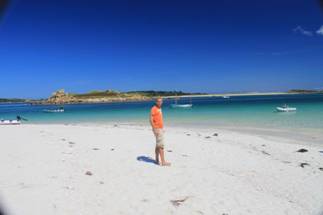 Hugh Town, the main town on St Mary's
View over Old Town, St Mary's
St Mary's has great rocks for scrambling on, this is our favourite as it looks like a crocodile!
Alan also had to have his picture taken sitting on a cannon, as he has done every time he has been here since he was a little boy!
After 4 days we left St Mary's and spent 2 nights on a buoy in New Grimsby Sound between Tresco and Bryher.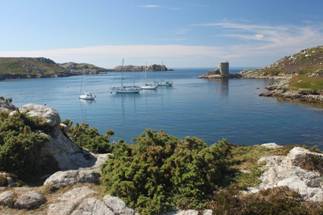 We then anchored for one night in St Martin's Bay, on the east side of St Martins
Followed by a night in Helen's Pool where we met up with Boandaro, a Bowman 48, and had a great barbeque on the deserted island of Tean.
Our final night was a bit wet and miserable on St Agnes so no photos, but we did have a nice lunch in the pub. We set sail at 7am the next morning for the mainland finally ending our island life after 9.5 months.
We had a bit of a lumpy sail back timing the tides very badly around the Lizard and finally arrived in Falmouth at 8pm. Gerry one of our friends from The ARC was there to meet us, as he was in St Lucia and Bermuda, which was really nice. We were very tired but managed a few beers in his local pub before a good nights sleep.
We are moored in Mylor Marina a beautiful place just up the river from the main town. Alan has mended the goose neck on the main and James and Robin have joined us on their motor boat Carefree.
---