Salcombe & Dartmouth

Stella
Alan & Mary Phypers
Thu 25 Aug 2011 12:37
50:21.3N 03:34.4W
Thursday 18th to Tuesday 24th August 2011
Dartmouth & Salcombe
On Thursday 18th August we said goodbye to Cornwall as we continued east to Dartmouth to meet Mary's Dad and his wife Barbie who were staying for the weekend. We stopped overnight in Plymouth, anchoring under Jenny Cliff but didn't have time to go ashore as we had to leave early the following morning to catch the tide around Start Point.
There was no wind for the trip to Plymouth so we had to burn diesel all the way. This was less of a problem for us than it was the large fleet of Fastnet race boats that we passed through, all desperately trying to coax their boats along in virtually zero wind. When the tide turned and started flowing west many anchored, but in 60m of water they must have had to tie every bit of rope they had together.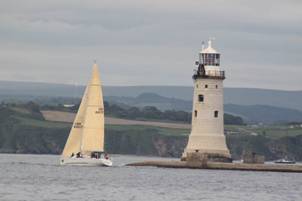 Jenny Cliff was a surprisingly nice anchorage and treated us to possibly our final sunset of the trip.
We departed early the following morning in similar conditions and motored east to Dartmouth. However, as we passed Salcombe at lunch time with the sun shining, we decided to change our plans and spend a sneaky night in this beautiful west country town. The very friendly harbourmaster showed us to a mooring and we spent a very pleasant afternoon exploring the town and North and South Sand beaches.
It happened to be the day of the annual Salcombe trawler race, which we watched from the Salcombe Yacht Club. This involved about 20 fishing boats, some extravagantly decorated charging around a course and getting each other as wet as possible. It was a much bigger spectacle than we thought and most of the town seemed to be watching.
The next day we motored (still no wind) around to Dartmouth and moored on the floating visitors pontoons. In the evening we met up with Paul and Sylvie who did the ARC in their Malo 40, Catou and were berthed with us on 'R' pontoon in Las Palmas. They keep their boat in Brixham and had driven over for the evening. We then went on to join Mary's Dad and his wife Barbie for a lovely meal in town.
On Sunday, with Barbie onboard we motored up to Dittisham to meet Mary's dad for lunch in the pub where he had managed to chat up the lady who owned the house next door so we could sit at her very nice table. We then had a very relaxing afternoon on the Dittisham visitors moorings before taking the dinghy up river nearly to Totnes to watch the sun set with G&Ts in hand.
Nearly a year ago to the day we moored in exactly the same place in Dittisham at the start of our trip. Spot the differences between last year's photo (left) and a year later (right)! (No prizes for spotting that Stella's isn't quite so shiny!)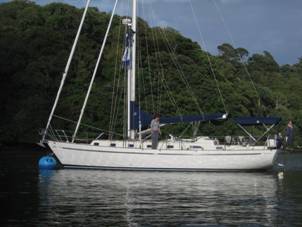 Monday was spent exploring ashore with Mary's Dad and Barbie: lunch at Torcross followed by a lovely meal at Dick & Wills restaurant in Salcombe (definitely recommended).
On Tuesday we met up with our friends Tania and Richard (Mary was at University with Tania) who had sailed down from the Solent on their summer holiday. We took Stella right up to Totnes on the tide and just had time to explore ashore and buy lunch before the tide dropped.
Dartmouth Royal Regatta started the following day (Wednesday) so by the time we returned from Totnes the visitors pontoons were full. The harbour master offered us two spaces which were far too small, so we spent a very peaceful night anchored just downstream of Dittisham. It was sad to leave Dartmouth as we have had a lovely few weeks in the West Country but we have to head back eventually.
We had lovely weather leaving Dartmouth ...
and then a beautiful sail back in 15-20 knots of southerly breeze.
We are now in Studland Bay waiting for the tide to take us back to Lymington and making the most of the first good internet and phone connection we have had for ages to send the blog and start on the admin involved with getting back.
---