Grenada

Stella
Alan & Mary Phypers
Tue 1 Feb 2011 11:34
11:59.89N 61:45.74W
7th – 14th January 2011
Hi, we are finally updating our blog after another long gap. This is partly due to relaxing into the Caribbean way of life and partly as we have been so busy. I really don't know where the time goes what with sailing, swimming, provisioning, searching for dinghies, boat maintenance and of course socialising. A month on from the ARC lots of boats are still on a similar course so we have hardly had a day when we haven't chatted to another boat.
Needless to say we are still having a lovely time.
En route to Grenada we stopped for a night in Union Island, a bit of an exposed anchorage but a lovely little town full of lots of colourful shops.
Fruit Market on Union Island
We then left St Vincent and the Grenadines and headed south for Grenada. We cleared customs at Carriacou and then headed straight for Grenada the next day where we anchored in Prickly Bay, our southern most point at N11˚59'.
Grenada feels very different to The Grenadines, much more affluent and no boat boys in sight. St Lucia and St Vincent and the Grenadines are more touristy and you are constantly hassled by boat boys in little wooden boats trying to sell you something or help you find a mooring. This can be great when you want fresh bread in the middle of nowhere or want your laundry done but can also be a hassle . In Bequia they even deliver diesel to your boat but you still haggle over the price!
Grenada also seems to have no charter boats and be full of mainly American long term live aboards who have their own little community with regular get togethers and a daily radio net. Oddly we have seen very few Americans elsewhere. The main tourism on the island comes from the many cruise ships which dock daily in St Georges disgorging thousands of passengers every day for a few hours before they head off again.
St Georges the capital has a very old colonial feel about it although is a bit grotty close up.
The surrounding hills are however full of lovely houses many owned by locals plus quite a few owned by what they call 'snowbirds' i.e. foreigners fleeing the winter snow. Most of the land is still made up of small family farms all growing a mixture of bananas, nutmeg and cocoa plus a bit of fruit and vegetables.
Banana trees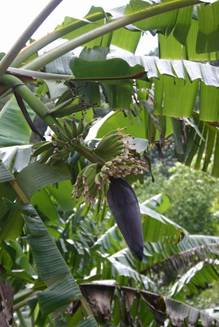 Cocoa beans drying outside someone's house
The nutmeg factory where nutmegs are dried on racks before being shelled and sorted. Sadly following hurrican Ivan in 2004 the nutmeg production will take up to 20 years to fully recover so they are still well below capacity
On our island tour we also visited a rum distillery where it is still made the same way as 250 years ago. Lots of sugar cane is pulped and then fermented in big open bowls where it is manually spooned from one to the other
Fortunately this muddy liquiid is then distilled to a pure white 70% alcohol, too strong to export on planes! We tried some and it was horrible!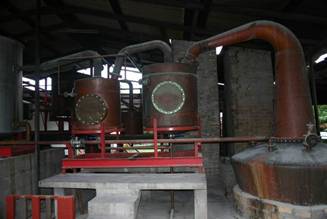 Other pictures from the tour, a cuban plane left behind after the americans invaded in 1983, a plaque from Leapers Hill which tells it's own story and us with Conor and Marion from Toucan with whom we shared the car
We loved Grenada and in addition to our cultural tour we went to a great Sunday barbeque on Hog Island with the locals. We spent a lot of time trying to buy a dinghy but despite false promises that some would come in 'tomorrow' we left disappointed. There seems to be a Caribbean wide dinghy shortage so Alan is very distraught. Our dinghy is OK but a bit small and slow and every time we go anywhere we end up getting soaked as the chop splashes over the sides.
We of course also met up with a few other ARC boats whilst here including Let It Be, Bavarian Spirit and Mariposa so no rest for our livers!!!!
The weather has continued to be unseasonably rainy and windy. Everyone who went to Tobago Cays after us says it was too rough to snorkel so we were lucky to go when we did. On our final night in Grenada we moved from Prickly Bay to the posh new marina in St Georges as the wind was picking up and quite a few boats were dragging their anchors.
We delayed our departure a day as it was so windy but in the end we had to leave to meet Alan's mum in Bequia. We left at first light and had a long 11 hour slog into 30-35 knots of wind with massive seas making it to Mayrou just before dark, by far the roughest trip we have had since leaving the UK. Fortunately it had calmed down a bit the next day as we were in more sheltered seas so we made it to Bequia just in time.
---