Port Jefferson

Karma Daze
Chris and Penny Manley
Fri 14 Jul 2017 16:18
"40:57N 073:04W"
Monday 10th July – Friday 14th July
Sitting in Port Jefferson, and anchorage further east along Long Island Sound, listening to Golden Oldies on a local radio station. The weather is overcast, and has been raining all morning. Hoping it will clear up later so we can go into the town. We're on a Port Jefferson mooring which also means we can use the moorings launch to get into town instead of having to use the dinghy.
We left Port Washington yesterday after spending 3 days in the Brewer Capri marina getting the engine sorted out. We ended up having to have a new starter motor and solenoid, but the marina didn't charge us for being in a slip as we were having work done, which at $140 a night we are pleased with!
As there was no wind we motored the 37 miles along the sound, a very boring and tedious journey. Port Jefferson is not exactly a picturesque anchorage. The moorings are just outside the town opposite a barge terminal, a power station and the ferry terminal. At least the ferries coming and going give us something to watch. They are going quite slowly passed us so we don't get much wash.
The weather starts to improve to tomorrow afternoon so we will move on, on Sunday. Next stop Fisher Island.
The patriotic power station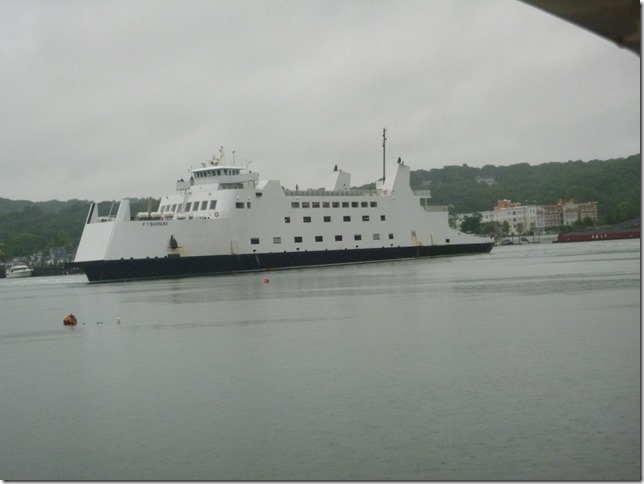 The Port Jefferson to Bridgetown CT ferry
A barge!
---