Georgetown

Karma Daze
Chris and Penny Manley
Fri 16 Sep 2016 23:19
Georgetown
The weather today Friday 16th September is much improved. Blue sky with some cloud, still quite windy but very warm. Having spent yesterday relaxing and doing some washing, we decided to walk in to downtown Georgetown and probably have lunch on the waterfront.
The town is about a 20 – 25 minute walk away, initially by a main road and then through leafy avenues with some very big houses. Everything looks very green and well looked after. The town itself is only quite small, but the walk along the waterfront is very picturesque apart from the paper factory in the background. There is a marina in the town but we thought we were too deep a keel to get in, and the one we're at was easy to get into.
Georgetown is the third oldest city/town in South Carolina. The town is very proud of its heritage and all the very old houses have the date when they were built. We stopped and had lunch overlooking the river where there were several terrapin/turtles in the very murky water. All the water in the ICW and around here contains a lot of tannin so is very brown. After a very enjoyable lunch and a beer or two we headed back to the boat.
The weather improves over the next day so we will continue on our way on Sunday.. The marina has told us that the part of the ICW from Charleston to here is one of the more difficult sections due to the changing depths and also because it is so exposed. So we feel quite proud that we've done it. Let's hope the next bit is easier...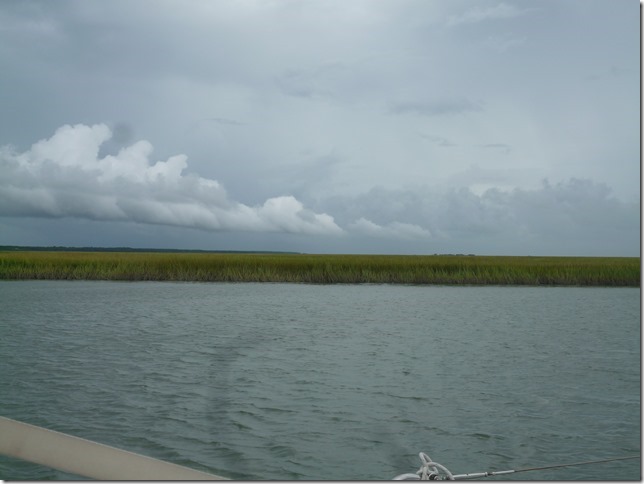 The featureless landscape between Charleston and Georgetown.
In splendid isolation in Georgetown Landing Marina
---