Ponce

Karma Daze
Chris and Penny Manley
Sun 17 Apr 2016 23:51
"17:58N 066:37W"
Motored out of Salinas watching the depth in the channel on the way out – did register no depth at one point but we kept moving so that was ok. Had a very pleasant down wind sail only using the head sail to Ponce. Ponce is the second largest city on Puerto Rico. The anchorage is at the mouth of the harbour opposite the Ponce Yacht and Fishing Club. The pilot book said we could tie up at their dinghy dock, but when we enquired in the office we were told we couldn't use any of their facilities if we were not in their marina. They also wouldn't phone for a taxi to take us in the city. Not very friendly.
We did tie up at the Fishermen's Cooperative dock and they were more than happy to do let us do so. We managed to find a taxi to go into Ponce. The city itself was a bit disappointing as we had expected street cafes and bars similar to San Juan. We did do a bus tour – very cheap $2 each. Couldn't always understand what the driver/guide was saying, and we saw a lot of back streets but it was quite interesting. We had lunch and then decided to go to a couple of museums which were unfortunately closed on Tuesdays!
Leaving the anchorage in Ponce the next morning "Spray" managed to run aground, so we returned to help. Eventually, he had to get the "SeaTow" boat which moors in the yacht club to pull him off for a mere $250! Embarrassment all round but no damage done. By the time "Spray" was floating again it was too late to continue to our next stop so we spent another night in Ponce.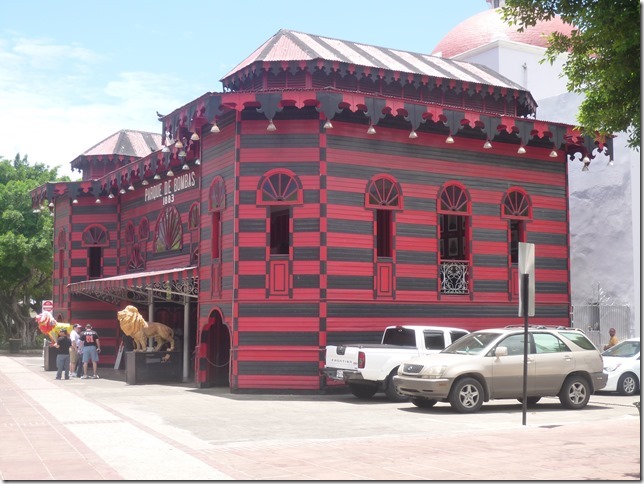 The Old Fire Station, Ponce behind the Cathedral
and they mean for members only. No one else is welcome!
---